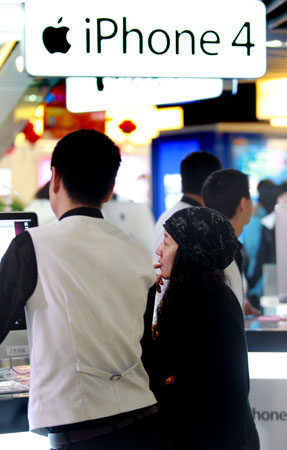 Consumers look at products at iPhone4 counter at Beijing's Apple store. [Photo / China Daily]
BEIJING - China Mobile Ltd said 5.6 million iPhone users had access to its wireless network by the end of May, putting increasing pressure on China Unicom (Hong Kong) Ltd, Apple Inc's official partner in the country.
Wang Jianzhou, chairman of China Mobile Communications Corp, the parent company of the carrier, revealed the figure in an interview with Chinese newspaper China Business News in early July.
In May alone, almost 700,000 iPhone 4 users were added to China Mobile's network, to the delight of Tim Cook, chief operating officer of Apple Inc, Wang told the newspaper.
Cook paid a low-profile visit to China Mobile's headquarters in Beijing last month, and industry analysts speculated that he might have discussed launching an iPhone to support China Mobile's fourth generation time division long-term evolution (TD-LTE) technology.
China Mobile, whose third-generation (3G) network technology isn't supported by the iPhone, has aggressively promoted collaboration with Apple in the upcoming 4G era. Currently, China Mobile's iPhone users can only run their device on the 2G mobile network.
"The advanced 4G TD-LTE technology could be beneficial (for China Mobile) to attract and maintain high-end mobile phone users," Wang said.
China Unicom, China's second-biggest telecom operator, is still the only carrier in China that offers Apple Inc's iPhone series with a service contract. However, the company faced increasing challenges from its domestic rivals.
China Telecom Corp Ltd, the smallest of the country's three telecom carriers, also plans to introduce a Code-Division Multiple Access version of the iPhone in the Chinese market.
"It is a trend" for rival carriers to offer services based on the iPhone, chief executive officer of China Telecom Chang Xiaobing told Bloomberg News at the end of May. "We don't have a choice in this, and must be ready to face this environment."
China Unicom also changed its terminal strategy from solely relying on the iPhone to promoting multiple smartphone models made by different manufacturers.
The company issued a definition of "a 3G Internet mobile phone" in May, saying those devices should feature a 3.5 inch screen, a central processing CPU of 600 MHz or more, and should have powerful multimedia capabilities.
The ZTE Blade V880 was the first 3G Internet mobile phone model introduced by China Unicom in June. The price of Blade V880 is 999 yuan ($155) and the model has daily sales of 4,500 units, becoming China Unicom's second most popular 3G mobile phone, after the iPhone 4.
China Mobile had 611 million subscribers at the end of May, of which 32 million were 3G users. The company aims to attract more than 50 million 3G users by the end of the year. China Unicom had 22.1 million 3G users in May, while China Telecom came in third with 19.7 million.