Top auditor says 10.7 trillion yuan owed nationwide
BEIJING - Local governments had an overall debt of 10.7 trillion yuan ($1.65 trillion) by the end of 2010, said China's top auditor on Monday in a report to the National People's Congress.
He warned that some were at risk of defaulting on payments.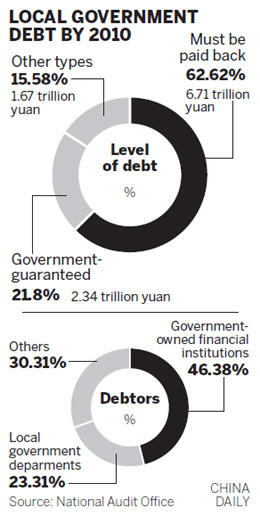 It was the first time the world's second-largest economy publicly announced the size of its local governments' debts. The scale amounts to more than one-quarter of its GDP in 2010, which stood at 39.8 trillion yuan.
Liu Jiayi, head of the National Audit Office (NAO), said local governments at county, city and provincial level all have outstanding debts, with the exception of 54 county-level governments.
Among the debt, local governments have an obligation to repay 6.7 trillion yuan, or more than 62 percent of the total debt, and they underwrote loans of 2.3 trillion yuan, nearly 22 percent of total debt.
Local governments and their subsidiaries made about 23.3 percent of the lending, while 46.4 percent of the loans were made through financing vehicles, with eight billion yuan of loans now overdue.
Concerns are rising that the problem of local government debt could destabilize the financial system of the country if it is not managed properly, especially after the central government's tightening of the housing market, which could affect local fiscal revenue that is highly dependent on land sales and make debt repayment more difficult.
In addition, China's ambitious plan to construct 36 million affordable homes during the coming five years, including 10 million in 2011 and 10 million in 2012, added to worries about increasing capital tension and rising non-performing loans in commercial banks.
About 79 percent of the local government loans were made by banks across the country, according to the NAO.
Lu Zhengwei, chief economist at the Industrial Bank, said the figures released were moderate compared with previous estimates, and risks lying in these loans are quite limited.
"Overdue loans take up only a small proportion of the total lending and local governments didn't pay them in a timely way mainly because deadlines were too concentrated, not because of deteriorated ability to repay."
Liu added: "Local government debt has played a positive role in developing local economies and societies. However, there are some problems in lending, managing and using the debt. In some regions the risks are still large, which calls for close attention."
He suggested the country could look at the idea of allowing provincial governments and some qualified city governments to directly sell some debt appropriately, and the plan should get approval from the State Council.
Beijing planned to clean up billions in local government debt by shifting 2-3 trillion yuan of debt off the books of local governments, Reuters reported, quoting anonymous sources.
Local governments have used their off-budget investment arms to tap into the flood of bank lending unleashed during the stimulus programs, and have channeled those funds into local infrastructure projects, not all of which are based on solid commercial foundations, said the Asian Development Bank (ADB) in a report.
Fitch Inc, a major international rating institution, lowered its outlook of China's long-term local-currency rating to "negative" from "stable" in April, saying there is a "high likelihood of a significant deterioration" in banks' asset quality within three years.
Bad loans could rise to between 15 and 30 percent of the total, with concern about the quality of lending compounded by growth in off-balance-sheet credit, Bloomberg cited Fitch as saying.
Li Yang, deputy head of the Chinese Academy of Social Sciences, a prominent government think tank, said that worries about the local government debt issue are unnecessary as long as the country maintains comparatively high economic growth.
"A possible debt crisis will only loom large when the economy slows down to some extent," said Li, indicating over-tightening by the central bank to curb inflation should be avoided to win time and space for issues such as repaying the debt.