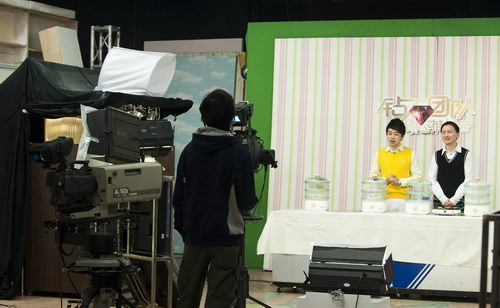 Hunan Television workers produce a television shopping program in a studio. Many television shopping programs have sprung up in recent years, and rather than selling cheap goods, they are moving upmarket to sell gold, cars, even houses. [Photo/China Daily]
BEIJING - Traditionally, sales of high-end products do not occur at home, but that's coming to an end if some entrepreneurs have their way.
Many television shopping programs have sprung up in recent years, and rather than selling cheap goods, they are moving upmarket to sell gold, cars, even houses.
"It's not like Fifth Avenue. It's more like those (out-of-town) outlets where you get both high quality and a reasonable price," said Zhang Dazhong, chairman of Oriental CJ, one of the largest home shopping companies in China.
Although television shoppers are sensitive to prices, Zhang said they have been paying more attention to quality. This is also why he thinks the company can tap into people's pockets through the common medium of a TV set.
Related readings:


 China to be as top consumer of high-end products by 2015


 High-end malls open up shop


 Online shopping boom to continue in 2010: report


 Online shopping gaining ground in China, says Nielsen
The company started in high-end product sales with gold.
"We started with five grams, then 10 grams and now we can even make it 1,000 grams," Zhang said.
The company found that trust developed among people as the market is maturing. It then went into diamond and car sales.
The company sold the latest model of the Toyota Camry in 2009. To Zhang's surprise, in less than an hour after the show was broadcast, 266 cars were sold - an average of one every 13 seconds, far faster than showroom averages.
Oriental CJ's reputation grew and with it came financial returns. In 2010, total sales of the company hit 5 billion yuan ($769 million), almost double the 2.8 billion yuan in 2009, according to Zhang.
He expects the figure to reach between 8 and 10 billion yuan this year. To hit the goal, the company will expand its presence in major cities. It plans to cover 10 cities in China by the end of this year, from about six currently, which are mainly in Southeast China, where the company is located.
Total transaction volumes of China's television shopping reached 23.4 billion yuan in 2009, according to industry figures. Experts expect that the figure will rise to 500 billion yuan by 2020.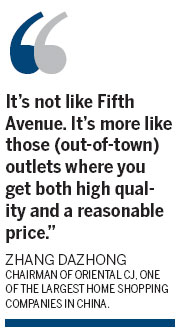 "The television shopping pie may hopefully account for 5 percent of total retail sales in China in five years giving the fast expansion of the consumer market," said Yin Li, deputy editor-in-chief, China Radio International (CRI), the country's international radio broadcaster that launched its own televised shopping channel, Global Go, in late March.
Like Oriental CJ, Global Go also focuses on high-end items. CRI plans to expand the channel overseas after it establishes itself in China.
China's television shopping faces competition from the country's robust online market and also regulatory controls imposed after fraudulent activity, said Cai Ling, an analyst with research company China Investment Consulting.
Television shopping accounted for 0.19 percent of total retail sales in China in 2009. Online shopping took 250 billion yuan that year with 1.97 percent of total retail sales, according to figures from domestic research company Analysys International.
People are also showing increasing interest in high-end products on the Internet. China's privately owned Zhejiang Geely Holding Group Co, which acquired the Swedish carmaker Volvo Car Corporation from Ford Motor Company last year, for example, launched its official store on Taobao Mall, China's largest business-to-consumer platform, last year to try its hand at online sales.