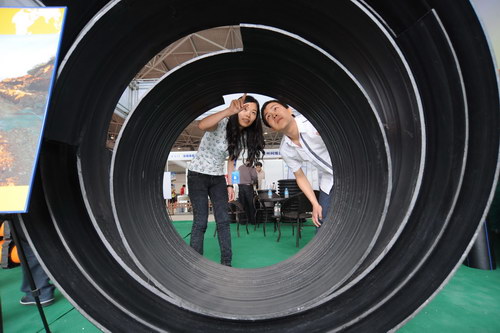 A worker displays energy-saving building materials to a visitor at an exhibition in Guiyang, capital city of Guizhou province. The Asian Development Bank has allocated $124 million to help boost the energy efficiency in buildings in China. [Photo/China Daily]
SHANGHAI - Shanghai Pudong Development Bank Co Ltd (SPDB) on Monday launched a program in partnership with Asian Development Bank (ADB) to provide 300 million yuan ($46.11 million) in credits to support financing of energy-efficient buildings in China.
Through the program, SPDB will lend to companies seeking to retrofit their old buildings to reduce energy consumption or to construct so-called green buildings, which are designed to optimize energy and water consumption.
ADB will provide partial credit guarantees on the loans, sharing the potential bad debt expenses with SPDB.
The 300-million yuan will be loaned within one year.
Related readings:


 SPDB teams up with US bank to target SMEs


 China to deepen cooperation with ADB


 Crude steel output rises amid experts' mounting worries


 China's crude steel output rises 8.69% in Q1
US-based Johnson Controls Inc has also joined hands with SPDB and ADB to help identify buildings with potential to save energy.
Johnson Controls, the world's leading energy-management company and auto suppliers, provides energy-efficient solutions to nearly all of the landmark buildings in China, including the Shanghai Expo Center and the National Stadium, or the Bird's Nest, in Beijing.
The 300-million yuan program is the first phase of 800-million yuan allocated by ADB to help boost energy efficiency in buildings in China.
ADB will seek other banking partners or extend its cooperation with SPDB to finish the program after the first phase wraps up, said Yang Bin, general manager of SPDB's investment banking department.
SPDB has been a pioneer of green and low-carbon financing among China's city commercial banks, with loans extended totaling 100 billion yuan over the last three years, said Yang.
The Shanghai-based bank was rewarded for its contribution to environment financing at the Fourth China Environment Investment Conference in 2010.
"To finance the construction and retrofitting of energy-efficient buildings is a new and risky area for us," said Yang.
"By joining hands with Johnson Controls, we will have access to expertise and financial back-up which will reduce the risk in our loans."
Hisaka Kimura, a senior investment specialist with ADB's private sector operations department, said the move will help China in its efforts to boost energy efficiency in its buildings.
On May 12, the Ministry of Finance and the Ministry of Housing and Urban-Rural Development jointly issued a decree aimed at reducing energy consumption in public buildings by 10 percent every square meter.
Large buildings are required to reduce energy consumption by 15 percent.
"By sharing the credit risk with our partner bank in this program, we aim to ease the financing bottleneck and expand critical private sector investment in energy-saving green buildings in the industrial, commercial and social infrastructures in China," said Hisaka Kimura.
"Doing that will have a long-lasting and cumulative effect on China's efforts to slash greenhouse gas emissions."
According to Lei Dingyong, sales director with Johnson Controls' energy solutions department in China, by adopting LEED - an internationally recognized green building certification system - a building can reduce energy consumption by up to 50 percent.