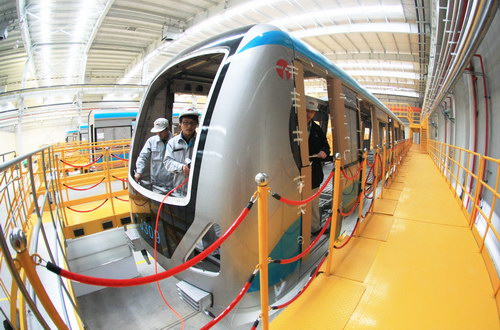 A manufacturing facility owned by China South Locomotive & Rolling Stock Corporation Ltd in Nanjing. The company had revenue of 64.9 billion yuan in fiscal 2010, an increase of almost 40 percent year-on-year. [Photo/China Daily]
SHANGHAI - China South Locomotive & Rolling Stock Corporation Ltd (CSR), has won orders valued at about 7.33 billion yuan ($1.13 billion), equal to 11.3 percent of its total 2010 revenue.
Analysts said China's robust demand for high-speed, bullet and metro trains will boost CSR's market performance.
The big-ticket deals include orders for rapid-transit vehicles from Guangzhou Metro Corporation worth 2.6 billion yuan and Wuhan Metro Group Co Ltd worth 0.8 billion yuan. The company has also secured a 0.21 billion yuan order for wind-power generating units from Huaneng Hezhang Wind Power Co Ltd.
The Shanghai and Hong Kong-listed train maker also has orders for open wagons from companies in the Inner Mongolia autonomous region, and for maintenance of passenger carriages from the Ministry of Railways.
"These orders are strong indicators of a bright future for CSR," Wang Botao, an industrial analyst from China Post Securities, told China Daily.
The past two years have witnessed an increasing demand for transportation equipment, and the country's nationwide renovation of its railway system will guarantee enormous demand for trains, according to Wang.
"CSR has walked out of the shadow of the corruption scandal surrounding the former railways minister, Liu Zhijun, and the maelstrom of the ministry's leadership reshuffle," said Fu Caixia, an analyst from China Minzu Securities.
Concerns about the capital situation of China's railway system and the safety of its high-speed rails have made national headlines in the past two months, but the capital market has almost digested the bad news, said analysts.
Sheng Guangzu, the newly appointed railways minister, has confirmed that large-scale railway construction will continue, and the country will build 30,000 kilometers (km) of railway between 2011 and 2015.
Lowering the maximum operational speed from the designed 380 kms an hour to 300 kms will ensure greater safety and lower ticket prices, resulting in a broader passenger base, said Wang. At the same time, the decision will do no harm to the equipment manufacturers, such as CSR, either, Wang said.
"The growth in orders for bullet trains will be consistent through to 2015, meanwhile new business for wind-power facilities, intercity trains, and exports will underpin the company's performance," added Fu.
"CSR has never lacked customers and the company currently holds orders valued at more than 100 billion yuan," said Zhao Xiaochuang, an analyst at Century Securities. CSR has estimated that in the next five years, as much as 15 percent of its revenue will come from overseas, Zhao added. In 2010, the company earned 2.34 billion yuan from overseas markets, an increase of close to 70 percent year-on-year.
CSR had revenue of 64.9 billion yuan in fiscal 2010, an increase of almost 40 percent year-on-year; and its net profit reached 2.53 billion yuan, up nearly 51 percent year-on-year.