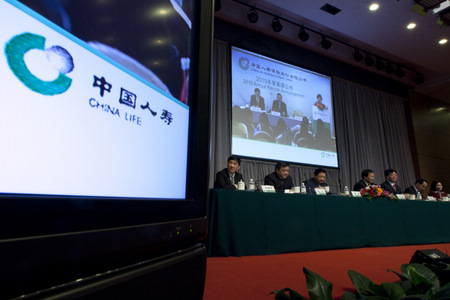 The executive management of China Life Insurance Co at a news briefi ng in Beijing on Wednesday. The company reported a 2.3 percent year-on-year increase in net profi t to 33.6 billion yuan ($5.12 billion) in 2010. [Photo / Bloomberg]
BEIJING - China Life Insurance Co, the world's biggest life insurer by premiums issued, said it continues to regard bank insurance as a major trend.
Wan Feng, president of China Life, said on Wednesday that he is positive - though with concerns - about the effect of the latest regulatory policy on the bank insurance business.
"According to the new policy, every bank can choose only three insurance companies to work with, so big insurers such as us have an advantage," Wan said.
In November, the China Banking Regulatory Commission issued a bank insurance policy that limited the number of insurance companies and barred insurance company employees from conducting business in banking outlets.
Wan said that he has concerns about the ability of bank managers to sell insurance products, but he still has faith in selling insurance through banks. "In 2010, our first year premiums totaled 52.2 billion yuan ($8 billion) and more than 20 billion yuan came from bank insurance," he said. "It shows the potential of the bank channel."
According to Wan, the Chinese insurance market is strong and China Life's total premiums are expected to "keep increasing by more than 10 percent".
Hao Yansu, an insurance professor at the Central University of Finance and Economics, said that large insurers benefit from the new policy and need not worry about bank staff members' understanding of the products.
"Banks will choose large insurance partners, and often invite experts to train their employees. They offer high-quality service, so insurance giants such as China Life are at an advantage," Hao said.
He added that the scale of the Chinese bank insurance market has been growing rapidly in recent years. However, he noted that insurance companies generally offer similar products.
"Insurers should come up with distinctive products, and life and accident products should be more important than financial ones," Hao said.
China Life reported a 2.3 percent year-on-year increase in net profit to 33.6 billion yuan in 2010. For the year, sales revenue surged 13.7 percent to 388.8 billion yuan with a solvency-adequacy ratio of 212 percent, a decline of 91.6 percent, which was mainly due to the development of businesses, fluctuation in the capital market and earnings distribution.