SHANGHAI - The labor shortage in coastal cities that was predicted before the Chinese New Year holidays has now arrived and is more severe than anyone expected, according to employers who say they are scrambling to find enough workers.
Many migrant workers who returned to their hometowns for the holidays decided to stay there for a variety of reasons, including a cheaper standard of living, new prospects closer to home and wanting to be with children they had not seen for months or years.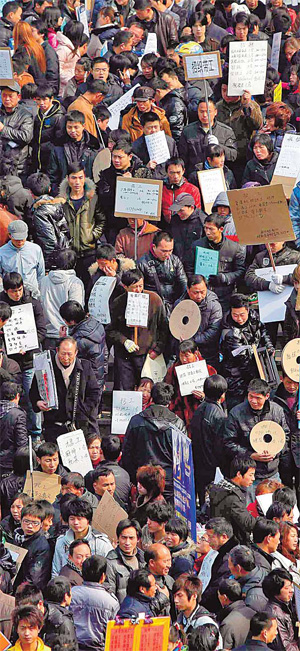 Recruiters hold up boards advertising jobs as they seek migrant workers at a job market in Yiwu, Zhejiang province, this week. [Photo / Agencies]
"I may not be able to make big changes to my life and I don't want my kid to follow in my footsteps," said Tan Haiyan, a 29-year-old migrant worker from Liling in Central China's Hunan province.
She quit her job in Changsha, capital of Hunan, before the Spring Festival, even though the factory had just raised her monthly salary from 2,500 yuan ($380) to 3,200 yuan.
She said her 2-year-old son, who she left behind in Liling, needed her.
"I'd rather use my earnings to open a small shop in my hometown and stay with my son to help him achieve more from a family education and family warmth," Tan said.
According to a survey by the All-China Women's Federation, some 58 million children in the country's rural areas were "left behind" by their migrant worker parents while their parents sought work in big cities.
Some 40 million of the children cared for by relatives are under 14.
Nearly 30 percent of the parents of the "left behind" children have worked away from their hometowns for more than five years.
While parents' desire to be with their children is part of the reason why so many migrant workers have not returned to jobs in factories in big cities, it is not the whole story. The rapid urbanization and economic development of China's interior have also led to more opportunities closer to home for many former migrant workers.
"In the past, we were able to attract migrant workers with our high salaries but 50 percent of our workers did not return from the holidays this year due to the development of inland cities," said Xiang Suming, the owner of Taizhou Zhonghe Shoe Co Ltd in Taizhou city, Zhejiang province.
Xiang said 90 percent of small- and medium-sized enterprises in the city could fail to finish overseas orders because they cannot find enough workers.
Zhang Wenhua, the owner of Jiangsu Longda Mechanical Equipment Co Ltd in Jiangsu province, is also struggling to find enough workers.
"I've raised my workers' monthly incomes by 20 percent and will increase them by another 10 percent in October," Zhang said.
But despite the rising salaries, only about half of his workforce had returned by Thursday.
According to statistics released by the transportation department in Shanghai, the number of migrant workers returning to the city from Sichuan and Anhui provinces fell this week by 10,000 a day compared to last year.
Agencies and companies have set up recruiting stands at railway stations to try to find workers.
Li Huaying, owner of a Shanghai job agency who has recruited migrant workers for several years, participated in job fairs at the Shanghai Railway Station in recent days.
"The situation is extremely tough this year compared to previous years because only dozens of applicants handed in resumes while there are hundreds of vacant positions," said Li.
Migrant workers now pay more attention to working conditions, social welfare and leisure time and expect wages of more than 3,000 yuan a month, Li said.
He pointed out that there are many local residents in Shanghai who receive minimum living allowances and stay at home who could work in the factories but they are reluctant to do so because they see it as beneath them.
"The local labor force should be encouraged to participate in factory work to ease the labor shortage caused by the unreturned migrant workers," said Li.
While small companies are struggling to find workers in coastal cities, Quanzhou in Fujian province, which is the base for many brand-name businesses, is enticing workers through its improved working conditions.
"We haven't seen much of a labor shortage here yet," said Chen Lanbo, a manager at Huatai Technology, a sound system producer in Quanzhou. "At least 70 percent of our employees have returned to their posts and more are expected after the Lantern Festival."
Chen said the loyalty is mainly due to the company offering a better working environment and prospects.
"Some workers bring their children here with them and we help enroll them in local schools. Others come here with fellow villagers seeking jobs," Chen said.
Staff at local job centers said the good working conditions in the city led to 85 percent of workers returning after the Spring Festival holidays to the 200,000 private enterprises in the city.
Wei Tian contributed to this story.