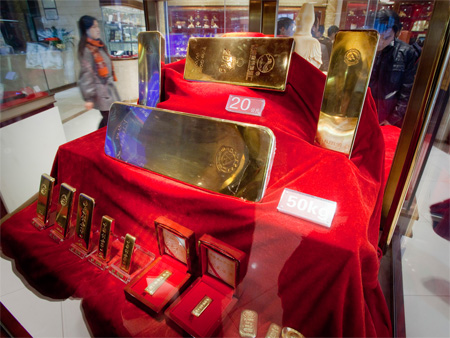 Gold bars displayed at a store in Beijing. Gold investment demand zoomed 70 percent last year on concern over domestic inflationary pressure and limited alternatives for investment. [Photo / Agencies] 
BEIJING - The investment demand for gold in China increased by 70 percent year-on-year in 2010 due to domestic inflationary pressure and limited investment alternatives.
According to a report released by the World Gold Council (WGC) on Thursday, China was the strongest market for gold investment growth with demand for small bars and coins totaling 179.9 tons last year, which was worth at around $7 billion.
"Gold bars are always out of stock in China in recent months," Wang Lixin, general manager at WGC China, said.
According to the report, gold investment in China more than doubled year-on-year to 17 billion yuan ($2.6 billion) in the last quarter of 2010. The gold investment for the full year totaled 48 billion yuan, up 113 percent year-on-year.
"China's continued inflation pressure and the government's policies to rein in the property market are main motivators for the booming gold investment demand," Wang Lixin said.
China's consumer price index, a gauge of inflation, hit a two-year high to 5.1 percent in November. The figure for December was 4.6 percent.
To cool down the soaring real estate prices, the central government issued a series of policies, increasing the housing loan threshold and restricting house purchases in key Chinese cities.
In 2010, China's benchmark Shanghai Composite Index dropped 14 percent, the poorest performer compared with its Asian peers.
"As there are few other investment avenues in China, gold is a good choice," said Wan Lixin.
WGC along with Industrial and Commercial Bank of China on Tuesday launched gold gift investment product to satisfy consumer demand, the council said.
Wang Lixin said more pure the gold product is, the more popular among Chinese investors. That's why gold bars have achieved a good performance. He added that gold bar investments will be much more popular with the participation of commercial banks.
The WGC report also said global gold demand hit a 10-year high to 3,812.2 tons in 2010. Asian consumers took the lead with the revival of the Indian market and strong momentum in China, which together made up 51 percent of the world's demand, in terms of both investment and jewelry, last year.
Related readings:


 Largest gold miner sued $26m for fatal dam breach


 China still No 1 gold producer


 Fear of fourth pushes Innerhofer to Super G gold


 China stop S Korea gold sweeping in short-track
"The Asian market was largely fueled by China's expanding wealth group from a strong economy," Managing Director of WGC Far East, Albert Cheng said. "China's gold demand for investment and jewelry amounted to nearly 600 tons, almost tripling from a decade ago."
Wang Chunli, general manager of Beijing Caibai Ornaments Store, the capital city's largest gold products retailer, told China Daily that the store saw sales hit 7.2 billion yuan in 2010, an increase of 60 percent compared with a year earlier.
The WGC report said the Chinese lunar new year celebrations continued to buoy demand for gold items.
Sales, including gold bars, during the Spring Festival touched a record 200 million yuan, with daily sales often exceeding 100 million yuan, according to Wang.