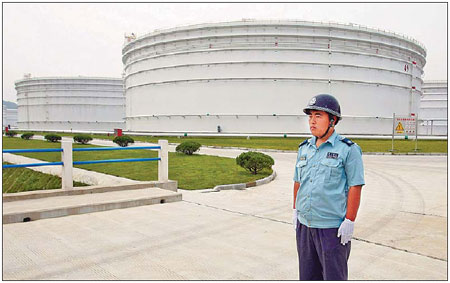 An armed police officer stands guard near large oil tanks at Zhenghai National Oil Reserve Base in Ningbo, Zhejiang province. China started to build oil reserve bases as early as 2003 to offset supply risks and reduce the impact of fluctuating energy prices.[Photo / China Daily]


2010 petroleum stockpiles equal to 36 days of consumption demand
BEIJING - China's strategic petroleum reserve capacity is expected to reach 274 million barrels by 2012.
However, that figure will not be confirmed for nearly two years, at the completion of the second phase of the reserve project for the fuel, according to the China Petroleum and Chemical Industry Federation (CPCIF).
The country's strategic stockpiling capacity had reached 178 million barrels at the end of last year, while its commercial inventory capacity hit 168 million barrels, the federation said in a report on Wednesday.
The combined reserve capacity was equivalent to about 36 days of domestic consumption demand, according to the report.
China has started construction of the eight sites for the second phase of the strategic reserve project. The first phase was completed in early 2009, with a designed capacity of 164 million cubic meters.
The country is now planning the third phase, scheduled to be completed by 2020, when the total reserve volume will be equivalent to 100 days of imports, according to the mid- and long-term oil reserve plan, approved by the State Council in February 2009.
"China's crude oil imports rose by 17.4 percent year-on-year to 239 million tons in 2010. The import volume reached $134.94 billion, accounting for 42 percent of the total import volume in the nation's petrochemical industry," said Zhu Fang, vice-director of the Information and Marketing Department at the CPCIF.
China, the world's second-largest oil consumer, saw its consumption rise by 12.9 percent last year from 2009, the biggest jump since 2005. Its apparent oil demand, which is composed of output and imports, but excludes stockpiles, hit 439 million tons in 2010, the report said.
By contrast, the nation only realized 203 million tons in crude oil output last year, up 6.9 percent from a year earlier, leaving a gap that has to be filled by imports.
Overseas oil is expected to have accounted for 55 percent of the nation's total consumption in 2010, Zhu said. The foreign oil dependency ratio is expected to gradually expand going forward to support the country's fast economic growth. China's GDP reached 10.3 percent in 2010.
By the end of 2010, the combined length of all of China's oil and gas pipelines extended 78,000 kilometers (km), including a 1,000 km-long oil pipeline linking Russia and China that started transporting oil on Jan 1. The pipeline has helped to ease the nation's heavy reliance on oil imports from the Middle East.
In addition, the federation said that China's petrochemical sector, which is expected to realize a profit of 690 billion yuan ($104 billion) last year with a 36 percent year-on-year increase, has started to expand again after hitting a low point as a result of the global financial crisis in 2009, Zhu said.
"From this year onwards, the industry will experience a gradual and steady growth trajectory," he said, adding that several policies, including the finished oil-pricing scheme, will face adjustment in 2011.
The domestic petrochemical industry is expected to realize a profit of 840 billion yuan this year, and domestic crude oil output will rise by 4 percent.
Meanwhile, the processing volume for crude will increase by 7.5 percent from 2010, and domestic apparent oil demand will grow by 6.6 percent, the CPCIF said.