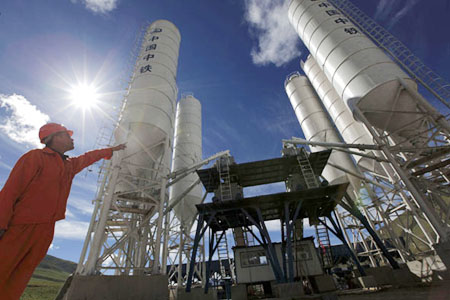 A worker at a cement factory inYushu, Qinghai province. Cement prices rose sharply in China due to energy curbs on producers. [Photo/China Daily]
Electricity restrictions and diesel shortage blamed for soaring costs
BEIJING - Cement prices in China rose to record high levels as mandatory energy curbs affected production.
The average price of cement in China has reached 400 yuan ($60) a ton, and in some regions, such as the east of the country, the price recently rocketed to 500 yuan a ton.
Shandong Shanshui Cement Group, the largest cement producer in Shandong province, China's largest cement manufacturing region, said it has had to increase prices seven times within a month to 420 yuan a ton from 340 yuan a ton, a rise of 25 percent.
"The soaring prices are mainly due to a supply reduction caused by power restrictions," said Liu Zuoyi, deputy secretary-general of the China Cement Association.
Adding to the problems is a shortage of diesel, which has affected transportation and cement deliveries, Liu said.
The fourth quarter is usually the peak period of cement supply, but the current shortfall is likely to continue over the next month, and prices are expected to remain at high levels, analysts said.
To achieve energy-saving targets for the 11th Five-Year Plan (2006-2010), Zhejiang, Jiangsu, Shandong, Guangxi and a dozen other provinces and regions adopted stringent measures to lower energy consumption.
Energy-intensive industries such as cement and steel have become primary targets for electricity-control orders.
Energy-control measures in Zhejiang dragged down local cement output immediately. According to China Cement Net, prices in the province jumped five times between July and August. At present, local prices are 20 to 30 percent higher than in the second quarter.
In July, the price in Zhejiang province was about 250 yuan per ton, but only three months later, in October, it had shot up more than 30 percent to 400 yuan a ton.
Anhui Conch Cement said its gross margin is expected to set a record high in the fourth quarter this year, up from 29.19 percent in the third quarter, the company's securities representative Yang Kaifa said earlier this month. The fourth quarter is traditionally the high season for cement sales in eastern and southern China, Yang said. Conch Cement launched a nationwide price hike of between 10 to 50 yuan a ton during September and October.
The company made five new cement production lines operational in the second half of the year, and according to its latest report, the eastern regions contributed 37 percent to total revenue, while the figure stood at 24 percent for the southern regions.
However, Chinese cement prices are expected to fall in the first quarter of 2011, as production rebounds following the end of the government restrictions on power consumption, analysts said.