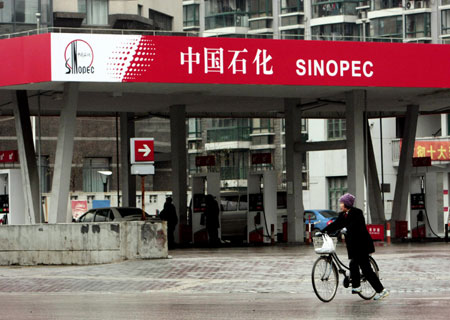 Sinopec says it plans to invest 500 billion yuan ($75 billion) in construction and 200 billion yuan in materials through 2015. [Photo / Bloomberg]

Consumption to increase by up to 6% by 2015 on economic growth
BEIJING - China Petroleum and Chemical Corporation (Sinopec), the nation's largest oil refiner, has forecast increasing domestic demand for oil.
"China's oil products market will grow at a rate of 5 to 6 percent over the 12th Five-Year Plan (2011-2015), fueled by the economy's strong momentum which is likely to grow by 10 percent annually," said Cai Xiyou, vice-president of Sinopec.
China will have consumed around 216 million tons of oil products by the end of this year, and will require 286 million tons in 2015 and 336 million tons in 2020, when nearly 60 percent of annual oil consumption will be provided by imports.
The nation's reliance on imported oil is around 50 percent at present, according to an earlier estimate by Zhang Fuqin, deputy chief engineer with the China Petroleum Planning and Engineering Institute.
Cai's prediction came after Sinopec signed five-year contracts for the supply of coal, steel and equipment with 22 Chinese manufacturers, including Shenhua, China Coal, Baosteel, Ansteel and China First Heavy Industries, to secure a stable supply of resources and accurate cost controls, according to the company's statement.
Sinopec said it plans to invest 500 billion yuan ($75 billion) in construction and 200 billion yuan in materials through 2015.
Meanwhile, it has earmarked 170 to 200 billion yuan annually for the procurement of materials and equipment, according to Cai.
China has outlined plans to boost its high-end equipment manufacturing industry during the 12th Five-Year Plan, as one of the country's seven emerging strategic industries.
Sinopec said the localization rate of its 10 million ton refinery system already exceeds 95 percent, and that of its ethylene unit has reached 85 percent.
The company reported an 11.6 percent increase in profit and 59.8 percent revenue growth for the first three quarters of this year from the same period in 2009.
The refiner has been hiking oil processing to meet the surging demand for diesel, which was used to generate electricity as some provinces limited power supplies to meet mandatory energy-saving targets.
Sinopec has recorded a rebound in its diesel inventory after eight months of continuous decline, and recently halted diesel exports.
It said earlier this week that the shortage will end in December.
China's refined oil products reserves have declined dramatically since August. Diesel stockpiles dropped 8.6 percent in September month-on-month and 10.7 percent in October. In addition, stores of refined oil products plunged to 14 million tons as of the end of October, from the usual level of about 17 million tons.
A senior official from the National Development and Reform Commission said on Nov 22 that power rationing is not the main cause of diesel shortage, and that electricity generated from diesel will also be included in the energy consumption figures and therefore, won't help to achieve the energy-saving and emission-reduction targets.