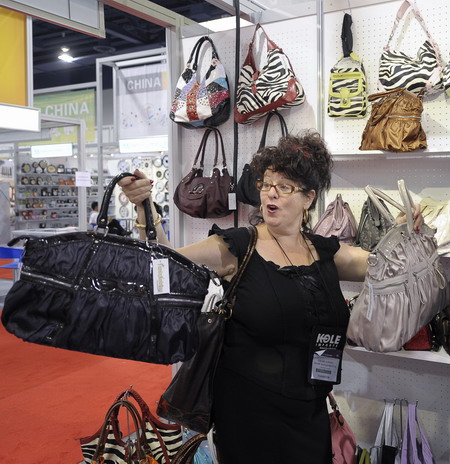 A US visitor checks bags at an exhibition for Chinese goods in Las Vegas. US buyers may have to pay more due to rising yuan and higher material prices. [Photo / Xinhua] 
BEIJING - Consumers in the United States may have to pay more for Chinese products as exporters increased prices amid a rising yuan and higher material prices, partly triggered by US polices.
The Yiwu Index, a gauge of China's biggest small goods market in Yiwu, in East China's Zhejiang province, showed that export prices have increased 3.6 percent year-on-year in October.
Among them, prices of rain gear, small household electrical appliances and construction materials rose 5.46 percent, 4.19 percent and 2.91 percent.
The rising prices were reflected at the Canton Fair, regarded as a barometer of China's exports, which ended on Nov 4 in Guangzhou, in South China's Guangdong province.
Liu Jianjun, spokesman for the fair, said sharp price rises for industrial materials and the appreciation of the yuan had caused Chinese enterprises to spend more time negotiating prices with foreign buyers.
"We haven't come up with a figure on how much exports prices have risen," he told China Daily.
"But there is definitely a rise, and for some categories, it could be double digits."
Export deals signed at the fair totaled $21.15 billion, up 12 percent over the previous session in April.
Hu Min, director of the garment department with China Chamber of Commerce for Import and Export of Textiles in Beijing, said prices of textile exports went up rapidly.
Hu, who just returned from the fair, said many textile enterprises had increased prices between 5 and 10 percent, driven by rising cotton prices, which have risen more than 40 percent per ton in recent months.
The China Cotton Index soared to 28,891 yuan ($4,360) per ton on Nov 8, compared with 14,177 yuan per ton a year ago.
Zhao Zhongxiu, a professor from the University of International Business and Economics in Beijing, said export prices go in tandem with the consumer price index.
The yuan jumped nearly 3 percent on Thursday to hit 6.6252 against the US dollar.
The Chinese producer price index, a gauge of industrial product prices, rose 5 percent in October.
In October, prices of raw industrial materials rose 8.1 percent year-on-year, forcing manufacturers to raise prices at home and abroad.
"US consumers are among the foreigners to feel the pinch, because the US is the largest importer of China," Zhou said.
The US imported $231 billion worth of Chinese goods from January to October, accounting for nearly one-fifth of the total goods shipped from China.
To some extent, Zhao said, the US attempt to push for the yuan to rise and its recent quantitative easing policy has boomeranged.
On Nov 3, the US Federal Reserve announced its $600 billion quantitative easing decision to buy Treasury bonds, sparking excessive liquidity concerns, especially to the emerging economies.
The US policies are likely to cause inflation in China, fueling an increase in the prices of Chinese goods.
But US consumers will most likely accept more costly Chinese goods because China's status as the world's largest exporter and a major supplier "is unshakeable", Zhao said.
He said China has mature industrial infrastructures, advanced technologies, logistics services, sources of raw materials and skilled labor, and Southeast Asian countries don't have, for the time being, these advantages to replace China.
"US buyers will have to swallow the bitter pill and tolerate the price rises, which are partly caused by their own economic policies," Zhao said.
But a US expert said US appetite for Chinese goods will somehow be dampened.
Ethan Ligon, associate professor at University of California, Berkeley, said the quantitative easing pursued by the Federal Reserve can be expected to make the dollar weaker vis-a-vis other currencies, including the yuan.
"This will also tend to reduce US demand for Chinese exports, but the only effect we should expect from the Fed's accommodative monetary policy on China's CPI will come via the indirect effects of weakened US demand," he said.