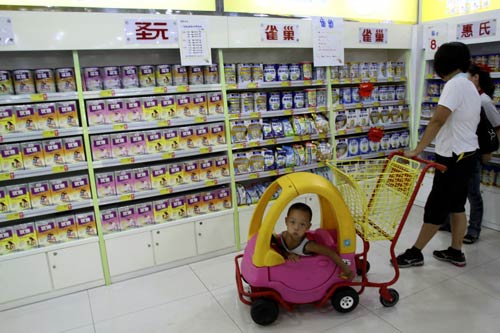 This photo taken on August 11, 2010 shows milk powder made by Synutra International is displayed on the shelf at a supermarket in Weifang, East China's Shandong Province. [Photo/Xinhua]
BEIJING - A clinical investigation has found no evidence that milk powder made by a Chinese company caused three infant girls to grow breasts, China's Health Ministry announced Sunday.
At a press conference in Beijing, ministry spokesman Deng Haihua said the probe found the hormone content of the milk powder within normal standards.
Earlier this month, parents and doctors in Hubei were reported voicing fears that milk powder produced by Nasdaq-listed Synutra International had caused at least three infant girls to develop prematurely.
Related readings:


 Milk powder probe under way, consumers urged to report cases


 Ministry orders probe into milk powder hormone claims


 25,000 tons of tainted milk powder destroyed


 Melamine tainted milk re-emerges in NW China plant
Deng said food safety experts led by the Chinese Center for Disease Control and Prevention (China CDC) tested 42 samples of Synutra products and 31 samples of dairy products from other producers.
The 42 samples of Synutra products include one from the residue of milk powder consumed by one of the three infant girls and 41 picked from the market in both Hubei Province and Beijing.
Deng said the tests found no exogenous sex hormones in sample products, and the levels of endogenous estrogen hormones and pregnancy hormones found in the sample products were within normal ranges.
Deng said doctors who examined the three infants found the cases of premature development were not serious and there were no national statistics suggesting a prevalence of premature development.
Professor Wu Xueyan, an expert in endocrine research at the Peking Union Medical College Hospital, said the premature development of the three infant girls should be diagnosed as "minimal puberty," usually seen among infant boys up to 6 months and girls up to 2 years.
"Minimal puberty" as a natural result of hormone secretion would make infants develop prematurely, Wu explained.
Girl infants under two years who are sensitive to hormone secretion could grow breasts, Wu said.
Wu said the experts studied the medical histories, clinical symptoms and chemical tests of the three girls.
"The three infants did not show premature development of bones or height, and the growth of their breasts was within the normal ranges of minimal puberty," Wu said.
Asked to comment on the increase of premature development cases over the past decade, Wu attributed it to greater awareness of the problem and a rise in hospital visits.
"I believe more parents will pay attention to the problem after this incident, which might trigger a rise in hospital visits and more such diagnoses," said Wu.
Shao Bing, a researcher with the Beijing Center for Disease Control and Prevention, said experts with different medical institutes jointly tested more than 70 samples of milk powder products.
"The samples were delivered by the Ministry of Health, each was given a number, but with no trademark," Shao said. "The testing method was widely applied during the Beijing Olympic Games and proved to be effective and safe."
Testing of hormone content was not standard in quality inspection of dairy products, although routine testing was feasible, but expensive, said Shao Bing.
Zhang Yingjiu, public relations manager of Synutra International, told Xinhua Sunday in a response to the health ministry's release of inspection results, that the company appreciated the ministry's prompt investigation and the timely news release.
The company's official website Sunday carried a public letter written by company president Zhang Liang on August 12, expressing regret for the panic and the public concern over the company's products.