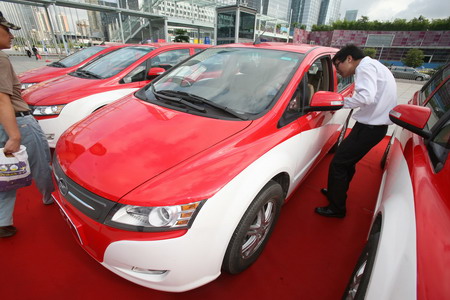 BYD vehicles, including its hybrid F3DM and the wholly electric e6, will enjoy both national and regional subsidies. [Cheng Jian / for China Daily]
SHENZHEN - The city of Shenzhen began offering subsidies for new-energy vehicles on Tuesday, as part of broader national program to encourage fuel-efficiency.
Under the terms of the new regional subsidy plan, plug-in hybrid car makers can qualify for up to 30,000 yuan ($4,412) subsidy for each sale and wholly electric car makers can qualify for up to 60,000 yuan per unit sold, said Shenzhen Mayor Xu Qin on Tuesday.
Private car buyers in the city can qualify for a subsidy of 9,000 yuan for the purchase of an energy-efficient car.
Electric carmaker BYD Co, a key beneficiary of the extra government subsidy program, saw its shares gain 5.91 percent to HK$60 on the Hong Kong Stock Exchange on Tuesday.
The new regional program is based on a national program for five pilot cities - Shenzhen, Shanghai, Changchun, Hangzhou and Hefei - to offer subsidies of up to 50,000 yuan to buyers of plug-in hybrids and subsidies of up to 60,000 yuan to buyers of wholly electric vehicles starting June 1.
Under the new arrangement, BYD vehicles including its hybrid F3DM and the wholly electric e6, can enjoy both national and regional subsidies or a combined deduction of 80,000 yuan or 120,000 yuan, which experts believe is a significant attraction for buyers.
BYD CEO Wang Chuanfu said the company intends to reduce electric vehicle costs to a range similar to non-energy efficient cars within two years.
He also said that the company has set up 11 dealerships to offer sales and service for new energy cars.
BYD launched an upgraded version of its existing F3DM hybrid model on Tuesday at a post-subsidy price of 89,800 yuan. A total of 25,000 new-energy cars will be on the streets of Shenzhen by 2012, estimated Mayor Xu.
BYD, in which billionaire Warren Buffett holds a 10 percent stake, caught the world's attention last year with its electric car innovation.
The young automaker is set to start selling its e6 electric car in the United States later this year, at around $40,000. It is also planning to launch the e6 in Europe early next year, with its headquarters in Frankfurt, Germany.
BYD has also started assembling cars in Russia, in cooperation with local partner TagAZ, according to a Bloomberg report on Tuesday.
BYD Co's vehicle sales in June fell 21 percent to 35,356 units from May, Chinese website NetEase reported on Tuesday, citing the company. June sales rose 3 percent from a year earlier, the report said.