BEIJING: Even though India unexpectedly hiked its interest rates on Friday, it is premature to predict whether other major Asian economies will follow suit, analysts said.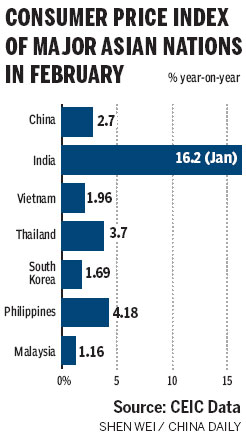 The Reserve Bank of India hiked short-term rates - the first time in almost two years - from record lows in a bid to curb surging inflation. In February, its wholesale price index, a major indicator of overall inflation, reached 9.89 percent, well above the government estimate.
"This measure is part of the gradual withdrawal of the monetary accommodation undertaken in the wake of the financial crisis in order not to adversely affect the country's growth momentum," said Ashok Sharma, director of Asian Development Bank's South Asia department. India has been implementing its calibrated exit strategy, initiated in October 2009 when the statutory liquidity ratio was raised, and carried forward in January 2010, when the cash reserve ratio was raised, he said. Together with the latest move, "these measures should contain inflation", he said.
But he ruled out the possibility of the hike leading to increasing capital inflows into India. "While a differential interest rate is one determinant of capital inflows, there are other important determinants, such as macroeconomic stability, political stability, etc," he said.
India's move will not necessarily lead to a flurry of interest rate hikes by other major Asian economies, analysts said, as they are set to implement their withdrawal plans in accordance with their different economic scenarios.
"We do not consider that there will be a chain reaction," Sharma told China Daily in an e-mail interview. "Each country must consider the extent of the impact of the crisis, its fiscal space, and monetary situation in determining an appropriate timing for exiting from the stimulus programs."
Several Asian countries, including Vietnam, Malaysia and the Philippines, have started to tighten their monetary policy following Australia's policy adjustment last October.
However, facing uncertainty in their economic recovery from the worst global financial crisis in decades, these Asian economies have been cautious in implementing their exit policies.
Wang Jun, China's vice-minister of finance, told the China Development Forum 2010 on Sunday that the country should not hasten to start exiting from the stimulus measures, which helped its economy expand by 8.7 percent in 2009. "It must be a gradual, measured process."
As inflation picks up amid economic recovery, economists believe that the effective policy tool of interest rate hikes will have to be wielded some time this year.
China, the region's most vigorous major economy, is forecast to raise interest rates in the second quarter, although some experts said it could come even earlier.
South Korea could raise rates by 25 basis points in June before making bolder adjustments in the second half, predicted Nomura Securities.