FMs of China, S.Korea, Japan meeting in Jeju
(Xinhua)
Updated: 2007-06-03 19:48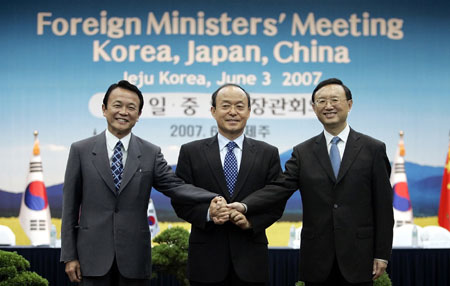 South Korean Foreign Minister Song Min-soon (C) poses with his Japanese counterpart Taro Aso (L) and his Chinese counterpart Yang Jiechi (R) before their meeting in Jeju, South Korea, June 3, 2007. The foreign ministers of South Korea, Japan and China meet on Sunday to try to smooth often prickly ties and help resolve the impasse over the nuclear weapons plans of their neighbour, North Korea. [Reuters]


JEJU ISLAND, South Korea, June 3 - Foreign Ministers of China, South Korea and Japan gathered here on June 3 to launch a trilateral meeting.

At the beginning of the meeting, Chinese Foreign Minister Yang Jiechi expressed his wish that the meeting will be constructive and fruitful.

Ahead of the trilateral ministerial meeting, South Korean Foreign Minister Song Min-soon separately met with his Japanese counterpart Taro Aso and the Chinese counterpart Yang to discuss bilateral issues.

Following the one-day meeting, Song and Yang will fly Monday to South Korea's capital city of Seoul to attend the Asia Cooperation Dialogue (ACD), a regional forum scheduled to be held in Seoul on Monday and Tuesday.

Aso is set to return to Japan Sunday evening.
Most Commented/Read Stories in 48 Hours