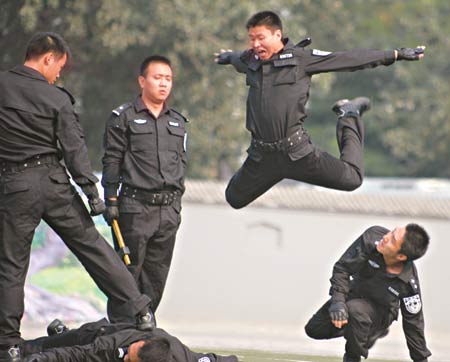 Beijing Special Police Force officers under training. [China Daily]



Three months ago, they were fresh college graduates. Now they are members of China's elite police unit.

Last month, the 123 new graduates, from six colleges including Beijing Sports University and Chinese People's Public Security University, officially joined the Beijing riot police team, known as the Special Police Force (SPF), after three months of intensive physical training.

It is the first time the force has recruited college graduates since its establishment about a year ago. Previously, it selected members only from different departments under the city's public security bureau such as the patrol brigade and the criminal investigation and security check departments.

The team are responsible for dealing with unexpected incidents in the city and fighting armed gangs, according to Xue Xiaoming, the team's deputy director.

"Beijing is a city with a low crime rate, but it needs a strong force to prevent and handle emergencies," he said.

"Obviously, a 970-member team is far from enough for a city of 15 million people, and we also have to take the 2008 Olympic Games into consideration."

Xue said the team would recruit more college graduates in the future.

With an average age of 23.4, this year's recruits are in excellent physical condition, as more than 90 per cent of them are sports majors. But Liu Wenge, the team's training director, said good mental health is essential, as well.

Awaiting the recruits now are practical skills training, including martial arts, riot control and hostage rescue, lessons on laws and regulations, and psychology. "To become qualified riot police officers, the new members still have a long way to go," Liu said.

Ma Nan, 23, one of the 14 women in the batch, said the psychological exam they had to take was so intensive that she hardly had time to think about the questions she had to answer them instinctively.

Ma said she still remembered a question about whether she had ever lied. "It's to test whether you're honest and can bravely face your mistakes," she said. "And I said 'yes'."

She admitted at the beginning of the training, she could hardly bear it because it was so intensive and demanding.

"Generally, we're required to do the same things as the men," Ma said. "But I've never considered quitting because I feel honoured to be an SPF member."

With its headquarters in the Xihongmen area of south Beijing, the team is divided into six detachments a flying unit, a diving unit, a police-dog unit and three combat units, as well as eight SPF groups.

The six detachments are stationed at the headquarters, and the groups, which handle emergencies in the city districts, are based at or near each district's public security bureau.

| | | |
| --- | --- | --- |
| 1 | 2 | |