Chinese steel mills would prefer to import more iron ore from Brazil rather than Australia after the detention of four Shanghai-based employees of multinational miner Rio Tinto on charges of commercial espionage, according to data specialist ASXMarine.
Spot iron ore vessel bookings from Brazil to China surged to a record 39 in July, from 24 in the previous month, Reuters quoted the data from ASXMarine.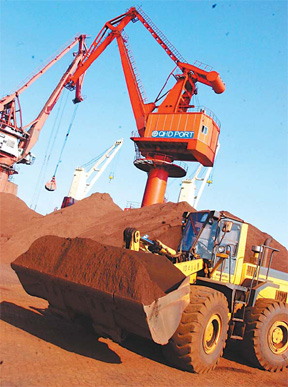 China's main ports received 56.5 million tons of iron ore in July. [CFP]
Vessel bookings from Australia's main iron ore ports to China dropped to 31, down from 40 compared to the previous month and the lowest reading since February after the Rio Tinto scandal.
Chinese steelmakers have begun to hold their imports from Australian miners and are switching to Brazilian ore instead, domestic ports have witnessed.
Zang Dongsheng, deputy general manger of Rizhao Port Group, China's largest iron ore port which accounts for a fifth of the country's iron ore deliveries, said some of his customers have reduced their orders from Australia and turned to Brazil. But the exact figures would be available only in September as shipments from Brazil and Australia would be delayed by one or two months.
China's main ports received 56.5 million tons of iron ore in July, up 35 percent from the same period last year, the Ministry of Transport said yesterday.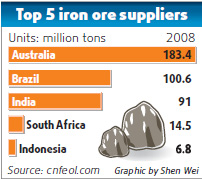 Iron ore imports rose 29.3 percent year on year, to 297 million tons, in the first half of this year, while traders imported 131 million tons, up 90.4 percent from last year.
The China Iron and Steel Association (CISA) said last Friday that excess iron ore imports had distorted the demand-supply situation and hampered its position at negotiations with global miners on new long-term benchmark prices.
It also said foreign iron ore suppliers promoted massive selling on the cash market, leading to huge stockpiles and urged to limit import licenses.
However, the iron ore import figures in July reflected orders in May as it takes more than a month to deliver ore from Australia and Brazil, said Zang from Rizhao port.
He forecast that iron ore imports into China's main ports would slump by up to 50 percent over the next two months.
Chinese steel mills started to reduce orders ever since CISA rejected the 33-percent cut offered by miners in May and held out for more discount, he said.
China News Service reported yesterday that CISA halted talks because iron ore spot prices have been "seriously distorted", citing a statement issued by the association.
However, no such statement could be found on the association's website, and its official surnamed Wang said the report was not true and talks were ongoing.