China and Brazil should ditch the US dollar in their bilateral trading and replace it with their own currencies, said Brazilian President Luiz Inacio Lula da Silva Wednesday.
In a half-hour interview before leaving Beijing for Turkey, Silva also urged both countries to be "cautious" to make their trade relations balanced.
"I believe it's extremely important that we should not rely and be dependent on the (US) dollar only to make our financial transactions," Silva said.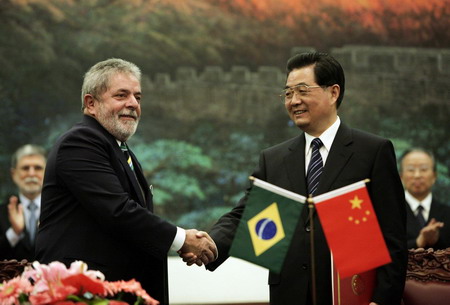 Chinese President Hu Jintao (R) shakes hands with Brazil's President Luiz Inacio Lula da Silva during a signing ceremony at the Great Hall of the People in Beijing May 19, 2009. [Agencies]

In his meeting with President Hu Jintao on Tuesday, Silva said he told his Chinese counterpart that both countries' governors of the central banks and finance ministers should meet within the year to "start a conversation" on the issue.
Related readings:


 Brazil's Lula, on China visit, secures 13 deals


 Brazil's President in China for talks


 China, Brazil have huge trade potential: former ambassador


 China and Brazil: Terms of endearment


 Brazil president arrives in China for state visit
"China has its own currency; Brazil has its own currency. We will regulate this new trade practice," Silva said.
In September, Brazil and Argentina signed an agreement under which importers and exporters in both countries may make and receive payments in local currency, although they may also continue to use the US dollar if they prefer.
The move was an attempt to reduce transaction costs by eliminating fees on currency exchange.
Silva said Brazil wanted to extend the arrangement to all South American countries.
But Shi Lei, an analyst in Beijing at the nation's largest foreign-currency exchange, said: "it may take a couple of years for China and Brazil to really start using the yuan in trades because the currency is of limited use outside China."
"We should first start yuan settlement with Hong Kong and build an offshore yuan center to expand channels for yuan use," Shi was quoted as saying by Bloomberg news.
China is seeking to promote the yuan as an international currency after signing 650 billion yuan ($95 billion) in agreements with Argentina, Indonesia, the Republic of Korea, Hong Kong, Malaysia and Belarus in recent months.
Jose Augusto de Castro, vice-president of the Brazilian Foreign Trade Association, said businessmen may have issues if they are paid in yuan because they would have to convert them to dollars and pay banks expensive fees.
Silva said any issues that need to be thrashed out are technical ones, not political ones.
"I believe we will have success in this new undertaking", he added.
The Brazilian president began his second state-visit to China on Monday since he took over the presidency in 2003.
China on Tuesday agreed to lend $10 billion to Brazil's state-owned oil giant in exchange for guaranteed oil supply from the South American country for the coming decade.
In addition to selling resources and raw material to Beijing, Silva said both countries "have to be cautious" about the trade balance problem.
Beijing for the first time outplaced Washington as Brasilia's top trading partner in April. But some 70 percent of Brazilian exports to China are primary goods such as soy and iron ore while 60 percent of Brazilian exports to the US are manufactured products, according to the Reuters.
In an interview, Brazilian Foreign Trade Secretary Welber Barral said: "We have to diversify what we export to China, we have to diversify beyond China and we have to add value to our exports."
While acknowledging the "divergence", Silva said both countries had exploited only 10 percent of their potential in trade because their diplomatic relations were established only 35 years ago.
"We still need to build a lot of houses. We still need buy more cars, fridges, TV-sets," Silva said, adding both countries have a lot to sell.