China said on Friday upward pressure on its rigid yuan currency was not so great and urged speculators betting on an imminent revaluation to be patient.

Vice Finance Minister Li Yong told participants at the annual meeting of the Asian Development Bank (ADB) in Istanbul that he believed the pressure for the currency to appreciate stemmed from domestic, not external, factors.

"I don't feel the upward pressure is that strong. I feel the pressure is not from the outside but from domestic needs," he said.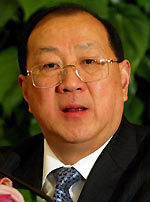 Financial Minister Jin Renqing answers question at a press conference of the third plenary meeting of the 10th National People's Congress on March 9, 2005. [newsphoto]

Li reiterated there was no timeframe for floating the yuan and said establishing market mechanisms and pushing financial sector reform were pre-requisites for a change in the currency regime.

Some analysts say rather than U.S. pressure, it is China's uphill battle to tame its overheading economy that has raised the chances of a long-awaited yuan appreciation this year, which could spark a rally in Asia's carefully managed currencies.

Li said China would take into account the impact on regional and global economies in reforming the yuan.

China's Finance Minister Jin Renqing on Wednesday said Beijing was determined to reform the its currency regime but intense market speculation on the exchange rate made it very difficult for Beijing to move now.

On Friday, Li pleaded with speculators to be patient. Li said some speculators were buying yuan-denominated assets hoping their value would go up by as much as 40 percent in the event of currency appreciation.

"Forty percent is astonishing. I urge them not to do such speculation. They need patience," he said.

"One big concern to me is that too much hot money is flowing into China."

SPECULATION HOTS UP

Investors placed fresh bets on Friday on a near-term appreciation of the yuan as Chinese central bankers prepared to meet U.S. Treasury officials and bankers next week to discuss currency plans, traders said.

The absence of top Chinese central bankers from the Istanbul meeting and their planned visit to New York has fueled speculation that Beijing is set to move soon on the yuan.

"In my view, this Sunday (May 8) would be the first 'Golden Opportunity' for China to move," said Frank Gong of JPMorgan.

"It's a working day for China (the first working day after the "Golden Week" holidays) when all the other markets are closed... Domestic markets/people can have the first chance to react to the big news," he said in a research note.

Three-month yuan non-deliverable forward contracts, which investors use to bet on any change in the yuan's value in the near term, factored in a 2.5 percent appreciation on Friday, compared with 2 percent the day earlier.

The yuan is pegged in a narrow band around 8.28 per dollar. As the dollar has broadly weakened over the last three and a half years, the falling yuan has made Chinese exports cheaper.

Li said China shared the concerns of other countries about imbalances which threaten the global economy. He said China would spend part of its massive foreign exchange reserves, the world's second largest at over $650 billion, to support its financial reforms.

"China will spend the necessary resources to support reforms," he said, citing Beijing's past decisions to inject capital into three state banks as examples.

Asked if China's surging economy could achieve a soft-landing, he told Reuters: "That is certainly achievable."

Li also said Beijing would continue adjusting its macro-economic policies as it tries to cool its economy, which grew at 9.5 percent in the first quarter of 2005.

"(Our 2005 priority) is to strengthen and improve macro-economic management. We will continue our macro-economic adjustment, which is so important for steady growth," he said.