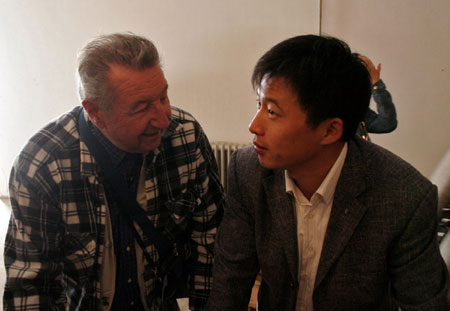 A French tourist shares his passion for wine with Mr Zhao at the Sino-French Winery. By Marc Checkley 
He gave the eclectic international group of wine devotees an opportunity to sample some of the wines created at the Sino-French Chateau. And for a very young winery, the wines show much promise for the future.
An interesting discovery was the 2005 Marselan. The varietal is one of the newest entrants in the wine fraternity. Exuding the smoothness of Cabernet Sauvignon with the sweet aftertaste of Grenache, it was indeed a one of the winery's best blends.
A Frenchman who lives near the famous Chateauneuf du Pape wine region, was impressed by the Chinese vineyard and pronounced the wines he sampled as very pleasant.
Zhao says Sino-French Chateau is still in an experimental stage and only has limited wine production at the moment. But in the coming years he hopes it will produce higher quality yields, which could see more local wines on China's tabletops.
Related reading: Fermenting the future