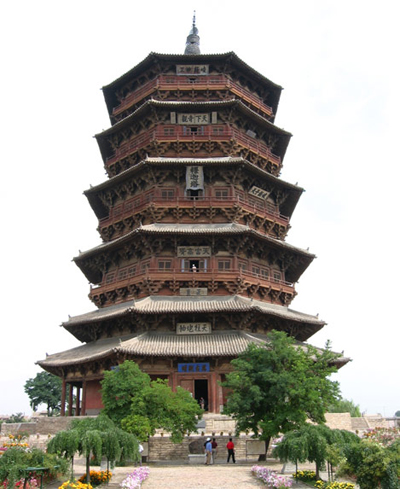 They say it leans, but it looks sturdy enough.

A 67-metre-tall pagoda in Yingxian County of north China's Shanxi Province has somehow survived the natural and human vicissitudes of history for 950 years.

On September, 5th, 2006, more than 1,000 pilgrims, including some from Taiwan Province, gathered in Yingxian to join the prayer to mark the pagoda's 950th birthday and to see the relics discovered inside the pagoda's statues.

The Sakyamuni Pagoda with unique architectural, religious and historical values is located at the Fogong (Buddha's Palace) Temple in Shanxi's Yingxian County, 380 km southwest of Beijing. It was built in 1056 during the Liao Dynasty , which ruled North China from 916 to 1125. China will celebrate the 950th anniversary of the pagoda on Sept. 5.

The Sakyamuni Pagoda was made entirely of wooden parts joined by innumerable mortises and tenons in a complicated structure of brackets, without using any nails. It measures 67.31 meters in height and 30.27 meters in diameter at the base, or the height of a 20-story building today.

It is an octagonal structure of nine stories, with five visible from outside and four hidden inside. The Buddhist statues in each story and paintings on the inner walls of the first story are all works of the Liao Dynasty.


During a renovation of the pagoda in 1974, a number of sutras were found, some hand-written and others block printed. They are important materials for the study of religion and printing technology of the Liao Dynasty, as well as the political, economic and cultural developments of the dynasty.


| | | |
| --- | --- | --- |
| 1 | 2 | |