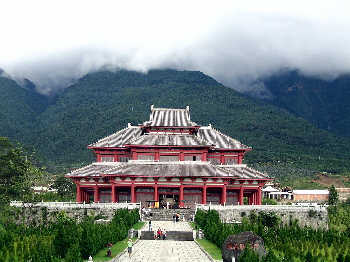 A famous traveller Arthur Miranda used to say that, "Once a traveller comes to Dali, he never wants to leave." In his book which listed his top 50 "must-see" places he put Dali at number 3.
Dali Bai Autonomous Prefecture in western Yunnan province covers an area of nearly 30,000 square kilometres. Its 13 ethnic groups include the Bai, Yi, Hui, Miao and Naxi ethnic minorities, and all who come here are impressed and amazed at how peacefully and happily they live together. Dali was the capital of the Nanzhao Kingdom during the Tang Dynasty and of the Dali Kingdom during the Song Dynasty. For thousands of years it has been a gateway to cultural, commercial and trade exchanges between China and the South-eastern and South Asian region.
The south-western Silk Road and the Tea-Horse Path once met at Dali, and so it was from there that Sichuan Shu brocade and Yunnan Pu'er Tea were exported to India and Afghanistan. Since that time Dali has maintained its reputation as an "ancient capital at the crossroads of Asian culture."
The Dali Three Pagodas, located in the Chongsheng Temple at the foot of the Cangshan Mountain, have a history of over 1,800 years. They have been eyewitnesses to Dali's history and embody the development of Buddhism in the area.
As the name implies, the Three Pagodas are made up of three ancient independent pagodas forming a symmetrical triangle, an arrangement which is unique in China. In order to understand the pagodas more deeply, we visit the site with Zhang Hongxia who, although still a young lady, is already a senior tour guide with the Three Pagodas park. She says the pagodas are not only a masterpiece of architecture, but also a place full of national treasures.
"During restoration in the 1990s, we found more than 680 antiques in the main pagoda, the Qianxun Pagoda, including sculptures of Buddha made of gold, silver, wood and crystal; Buddhist writings; and more than 600 medicinal ingredients. These antiquities play an important role in explaining the ancient history of Dali City."
Study of the Three Pagodas and the cultural relics that have been excavated at the site provides significant data for exploring the history, religion, and art of the area. Today, travellers can also visit the Three Pagodas at night, when they are illuminated providing a fantastic scene.