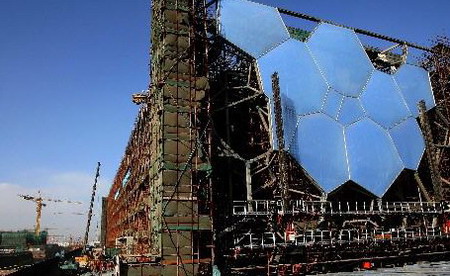 If China were to choose a new symbol for its national flag, an architect joked recently, the competition would be between a crane and a bulldozer.
Cities like Beijing and Shanghai have been growing rapidly for more than a decade but in recent years they have gone into hyper-speed - Beijing to prepare for next year's Olympics and Shanghai for the 2010 World Expo.
Driven by a voracious appetite for the new and the modern, the boom has delivered some striking constructions, from the Water Cube swimming complex in Beijing to the night-time skyline in Shanghai whose futuristic shapes and massive LED screens entrance visitors.
But to make way for the thousands of glass and steel high-rises, vast swathes of old buildings have been swept aside - some of considerable historical interest. In the process, critics say, the cities could lose the sense of community and street life that are important sources of vitality.
"There are plenty of places that have built new cities almost overnight," says Greg Girard, a Shanghai-based photographer who has just published a book chronicling the dramatic changes in the city's landscape. "But Shanghai is maybe the first to do so while tearing down an old city at the same time."
Chinese heritage officials have long grumbled about the destruction. But the issue came centre-stage this week when a senior government minister said the current wave of urbanisation was responsible for as much damage to the country's traditional heritage as the Cultural Revolution.
In unusually blunt comments, Qiu Baoxing, deputy minister for construction, said local officials "were totally unaware of the value of cultural heritage". He added: "It is like having a thousand cities with the same appearance."
Both Beijing and Shanghai boast unique architectural styles. Beijing used to be lined with hutongs - long, windy lanes flanked by courtyard houses. As well as notable art deco and neo-classical buildings, Shanghai has lilongs, a blend of European and Chinese influences with walk-up apartment blocks that look on to semi-secluded alleys. It was in these ambiguous mixtures of public and private space that the city's social life used to be rooted.