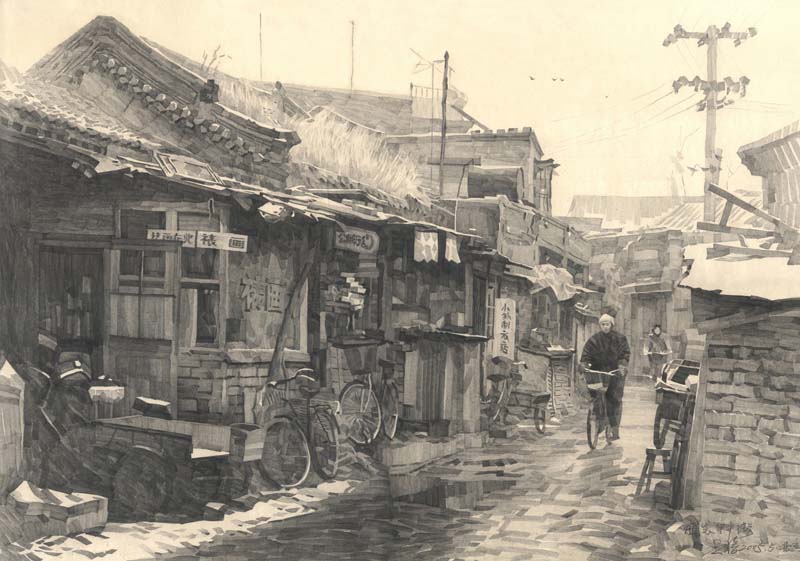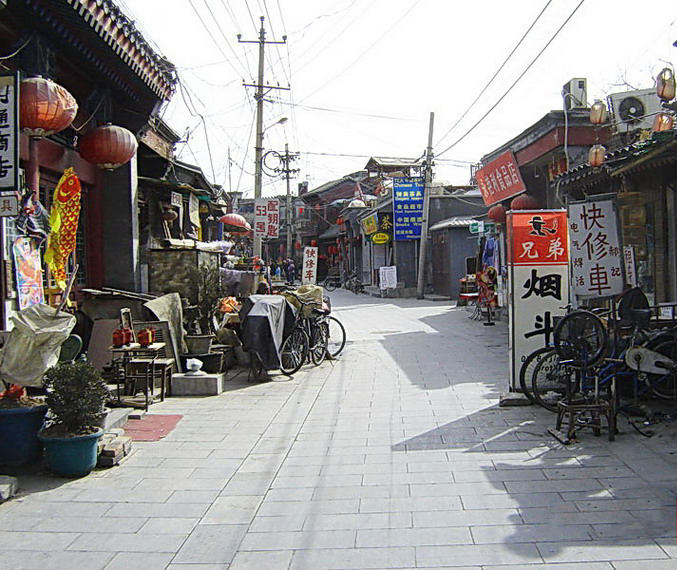 The route twists and opens round a corner to a pavement filled with light. The flung-open windows and brush-swept doorways lead into the nighttime venues of Beijing's hippest crowd. There is Vanilla, Lotus Root, and Green House Coffee, where this morning, dance music wafts like some forgotten party and twisted, coloured muslin billows in an archway.
But China life has not been hidden. An old woman sits chewing on the step of her home, appearing uninterested in what flows around her. Further on, a bicycle repair shop spills out on to the pavement and a barbershop TV blares over well-scrubbed floor tiles where. a young man gets a head massage.
Appointment With Heaven is a ramshackle old place with a smoky, slightly battered exterior near Di'anmen Avenue. Like a Tibetan tent, it is filled with a more interesting variety of the prayer beads and curiosities than you find in the market stalls of Beijing. Back on the Xie Jie, its name lingers with the thought of returning.
A cricket chirps from a tiny bamboo cage in the window of an antique shop. Next door, there are paint cans and blocks of wood and tree stumps sprouting buds. And, as if blissfully unaware of the street's high status of cool, there are tattered-looking market shops selling vegetables, meat and bread. Turning to look back at the Xie Jie, the lines of that old hippy song seem to run between the pavement cracks and dusty walls and implore: "You don't know what you've got till it's gone".
Across town, at He Ping Men, and right near Qian men, there is Liulichang Antique Market, stretching both sides of Nanxinhua Jie, to the east and west. But going east, and crossing the confusion of touts and pedicabs at its entrance, a lane lined with newly developed buildings, selling antiques and calligraphy, leads eventually to the entrance of a protected hutong: an intricate maze-like community of homes and buildings, and to another way of life.
For the Western imagination, there is little need to further romanticize the hutong, appearing as it does to reveal the sights, smells and sounds of China through the ages. A bitterly cold place to live in winter and stiflingly hot in summer, the cut, thrust and throng of its community is everywhere. Turning left at the end of Liulichang (on the east side), and following the narrow path for some minutes, a silence falls like a soft blanket on the sounds of the city as if you are suddenly somewhere else.
Free to roam, and with your valuables secured (the pathways will eventually lead you out of the maze), you will stumble across ornate Siheyuan (courtyard house) entrances, pencil-dropping silences down tiny little lanes, and grubby little restaurants that no doubt serve tasty food but are advisable to miss. There are vegetable stalls, great bamboo steamers and a mosque. And you keep on walking, turning as you chose, saying "Ni Hao" ("Hello") when you can. Whatever reason you chose to give it, on a warm spring morning you do feel you are temporarily beyond the clouds. Back on Liulichang, the sharp voice of the Er Hu reattunes your ears to the sounds of the city, and you realize that you are suddenly back.
Memories firmly in place, insistent bicycle bells pull you from the road and you think you might well have just been dreaming.
Pedicab tours are available of Yandai Xie Jie and Liulichang and drivers will likely spot you before you spot them. It is advisable not to navigate the hutongs at night.

| | | |
| --- | --- | --- |
| | 1 | 2 |