What would happen if every Chinese wrote a blog and expressed him or herself online? Well, it is hard to imagine, but worth it.
The population of Chinese weblog users has reached 20.8 million, the Internet Society of China said in a report released on January 10, 2007.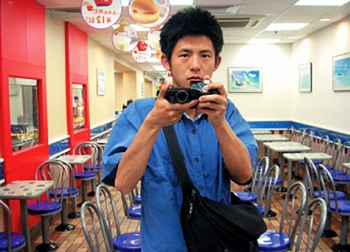 Readers' comments:
Miaomiaohedy:I think most of the people today are exhibitionist. They need a channel to express themselves and call for others' attention. Narcissism is so common and popular today because of contemporary people's individuality and loneliness.
Linuxnew:blog is only a method trough which people can show their daily life to people all around the world,whether it is private or public ,I think it depends on the blog owner,if you are open enough then you can post your ideas,you photos and even privacy to your blog ,if people like you then you will be famious,many people became famious in this way,it makes normal people have the chance to became famious.
Do you write weblogs?
Whose weblogs do you usually read?
Who are your favorite bloggers?
Contribute your comments to ourForum
Beijing native Wen Ling takes his camera with him wherever he goes. He is neither a photographer nor a journalist, yet he is doing the work of both professions. Every day, hundreds of people around the globe visit his photoblog to see how people live their lives in Beijing, from young women eating noodles to bored security guards and even protest marches.
The 29-year-old set up his websitewww.ziboy.comin September 2001 with just a computer and a digital camera.
"My photos have no theme, but they are not nonsense. Photo-blogging is photography but it's also creating a database. A single photo may reflect only a small fraction of Beijing. But when there are a dozen, a hundred, or even a thousand of them, you begin to build a picture of the city."
Common people write their blogs to become famous overnight, while celeberities get more publicities through weblogs. 
Find more about popular blogs in China on page48-54at

The blogosphere is as varied as real life itself. Whether it is a Pandora's box or a treasure chest has yet to be seen, and is up to the users who decide.