In the Tibet (Lhasa) Grand Commodity Fair, the soft textured Tibetan cashmere products of romantic ethnic elements attract the tourists' attention and enjoy brick sales in high-end market.
Zang Rong Wang Cashmere Products Co,Ltd, one of the exhibiting companies, reveals its trump card in business: location of the raw material.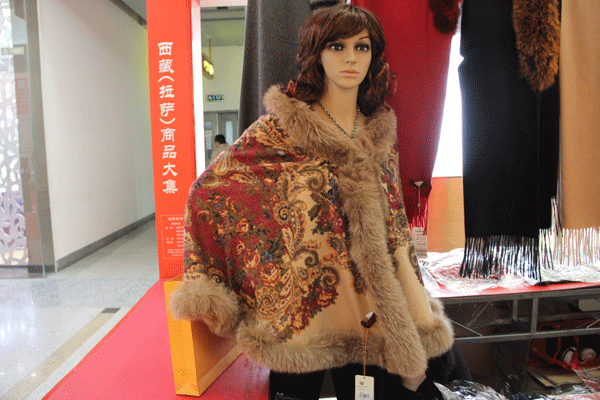 The plastic model wears a beautiful cashmere tippet on The Tibet (Lhasa) Grand Commodity Fair held in Beijing. [Photo/TIBET.CN] 
Located in Nagqu Prefecture where the Changtang Grassland lies, the Zang Rong Wang Company takes full advantage of the hometown of Tibetan antelope. Cashmere products from this company are all fully refined from the Kashmir white goat wool produced in Nyima County of Nagqu Prefecture.
The goat wool is among the top lists because of its purity, length and best fineness. The cashmere products have a comfortable smooth feel and a temperament of luxurious elegance.
Consumers are not turned back by the high-price, especially women. The cashmere tippet and blanket, in particular, make every lady fondle admiringly.
According to the salesman, the company only has physical stores right now, but it will launch online stores in the following stage. Through the new media, the corporation will strengthen and expand its business to achieve the aim of "using classy cashmere, making first-rate products".
According to source, the corporation has already signed contracts with two thirds of the farmers and herdsmen in Nagqu Prefecture. Large quantities of classy cashmere products are made and sold home and aboard, which brings more income to the local farmers and herdsmen.
People in the Southeast Asian countries, such as Nepal and Pakistan, are all their faithful consumers. With several agencies built in many big cities in China, the company hopes to enter Beijing market via this commodity fair as soon as possible.