Asoka was an Indian emperor who converted to Buddhism after a bloody war with a king in the eastern part of the country. According to Buddhist records, Asoka collected all the parts of Buddha's sarira, divided them into 84,000 parts, and stored each one of them in a pagoda-shaped shrine. Then he sent the sacred relics to different parts of the world. China is considered to have 19 of them.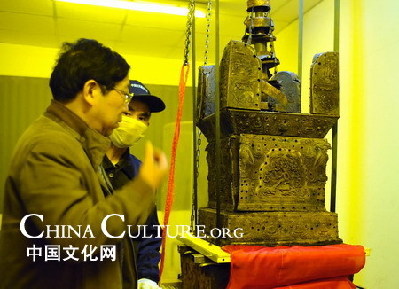 An archeologist talks with a worker about ways to remove and protect the miniature pagoda, which is believed to contain a part of Buddha's body in Nanjing, Jiangsu province November 22, 2008. [chinaculture.org]

The pagoda unearthed in Nanjing is made of wood, covered with gilded silver and inlaid with "seven treasures," such as gold, silver, colored glaze, agate and amber. It conforms to historical records of the "Seven-Treasure Pagoda of King Asoka" buried under the Changgan Temple, the second temple housing Sakyamuni's sarira in China.
Archeologists had earlier unearthed a stele with inscription that tells what the pagoda contains: a gold mini-coffin in a silver coffin cover, or the "Seven-Treasure Pagoda of King Asoka". The gold mini-coffin holds Sakyamuni's sarira.
Preliminary scans have confirmed the existence of two metal cases in the pagoda, said Qi Haining, an expert with Nanjing Museum and head of the archaeological team.
"If the two metal cases turn out to be gold and silver coffins, as written on the stele, they might as well contain Sakyamuni's sarira," Qi said. "If that is the case, then this pagoda would be unique, making it the only known one to hold a part of Sakyamuni's skull."
But it will take time to confirm the content because extracting the gold and silver coffins from the pagoda is a very difficult task, Qi said. And even if the coffins are extracted, it is highly possible that they could be welded, making the verification task even more difficult.