Ningxia will be celebrating its special ties with the world's Muslim community next month. More formally known as the Ningxia Hui autonomous region, this northwestern area of China will be hosting the 2009 China (Ningxia) International Trade and Investment Fair (CITIF) and will be focusing on building economic relationships with Islamic nations.
Commenting on the prospects for the fair, Wang Zhengwei, chairman of the Ningxia government, said: "We will take full advantage of Ningxia's special ties with the Muslims in the world as well as its distinctive agricultural products and abundant natural resources. We will now seek to establish the region as an international hub for halal food and Muslim commodities."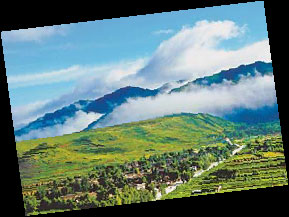 The Liupan Mountains Ecological Tourism Zone, a national forest known as a 'green island' on the Loess Plateau.
The fair will be held between August 18-23 in Yinchuan, capital of Ningxia Hui autonomous region, and is said to represent a golden opportunity for businessmen from home and abroad.
According to Wang, the six-day event, jointly organized by the Ministry of Commerce, the China Council for the Promotion of International Trade and the government of the Ningxia Hui Autonomous Region, will serve as an ideal platform for economic exchange and cooperation.
As a major national trade fair, the CITIF will cover a broad range of sectors and promotional events, including exhibition areas dedicated to halal food, Muslim commodities, premier cashmere (wool) products, light industrial products, electronic products, machinery and equipment, tourism products and special agricultural products.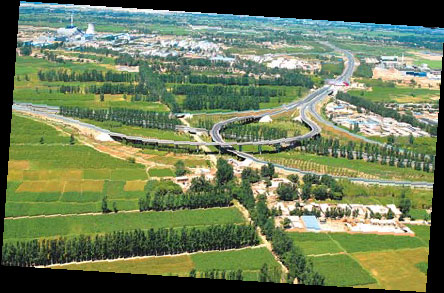 The cloverleaf junction above the Nanhuan Expressway.
The fair will also host a series of business meetings, high-level forums and symposiums, including the Symposium on Economic Cooperation between Ningxia and Arabic Countries, the 2009 China International Forum and Exhibition of Coarse Cereals and Beans Industry, the Summit on International Cooperation in the Halal Industry, the Ningxia-France Development Forum on the Wine Industry and the 4th Ningxia-Taiwan Forum on Investment Promotion and Economic Cooperation.
In addition, the 2009 CITIF will have an online presences, designed to promote Internet-based business activities and attract greater levels of participation.
Land of plenty
Located in northwestern China, Ningxia spans a total area of 66,000 sq km and has a total population of 6.18 million. It is one of China's five provincial-level ethnic autonomous regions. The Hui ethnic group accounts for 36 percent of the population and lives side-by-side with a number of other communities, including the area's Mongolian, Manchu and Korean minorities.
The Yellow River flows through a vast area of the region's territory, bringing abundant water and irrigation resources, as well as contributing to much of its glorious landscape. The region also enjoys a temperate climate, resulting in a cool summer and a warm winter. With a growing reputation as a latter-day "Land of Plenty," Ningxia is rich in land, water and valuable natural resources.
The region has an arable land area of 1.1 million hectares and its per capita farmland area ranks at number three in the country. The State Council has recently selected Ningxia as a model zone for good practice in modern agriculture, water-conservation and eco-friendly agriculture.
The region ranks at number six in the nation for established coal reserves - with per capita coal production ranking at number three in the country and per capita power generation ranking at number one.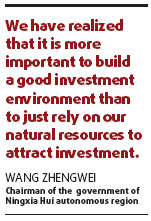 The Ningdong Coal Mine, with demonstrable reserves of 27.3 billion tons and possible reserves totaling more than 130 billion tons, is one of the nation's 13 100-million-level coalmines.
In addition to the super-abundancy of its natural resources, Ningxia is also home to some breathtaking scenery. The diversity of the local landscapes has seen the area now well established as a popular tourist destination.
Explaining the allure of the region, Wang said: "We not only have a vast stretch of desert land, but we also have some incredibly beautiful scenery, deeply reminiscent of many of the areas to the south of the Yangtze River.
"What's more, Ningxia is the original home of the mysterious Xixia people, a civilization that dates back more than 1,000 years and has many unique Hui (Chinese Muslim) customs and traditions."
Environment climate
According to Wang, the local government has been making stringent efforts to attract funding to develop the region's natural resources.
Commenting on the strategy, he said: "We have realized that it is more important to build a good investment environment than to just rely on our natural resources to attract investment.
"We have established, in almost every county in the region, a dedicated government agency to meet the needs of investors, as well as a complaints center aimed at helping investors resolve any problems that may occur."
Ningxia is already well regarded for the quality of its infrastructure in the water, power, communication, transportation, education, medical service and entertainment sectors and has already attracted a number of investors in these areas.
The total extent of expressways in the region has now exceeded 1,000 km, whilst the total length of its highways is some 21,000 km. They represent an important part of the transcontinental highways connecting Asia and Europe.
The region's railway mileage per 100 sq km ranks the region at number one in northwestern China. It is also a domestic and international flight hub, making it an easily accessible center for foreign trade delegations.
The Ningdong Energy and Chemical Industry Center, a national key economic development zone that began construction in 2003, is expected to become the world's largest coal and chemical industrial facility following the completion of its first construction phase in 2010. A second phase of construction is scheduled to finish in 2020.
As the region's most significant industrial base, it has already provided a considerable boost to the economic development of Ningxia.
(China Daily 07/27/2009 page8)