Beauty & the beast
Updated: 2012-02-15 10:31
By Liu Zhihua (China Daily)
| | | | | | | | | | | |
| --- | --- | --- | --- | --- | --- | --- | --- | --- | --- | --- |
|   | | Comments() | | Print | | Mail | | Large Medium  Small | 分享按钮 | 0 |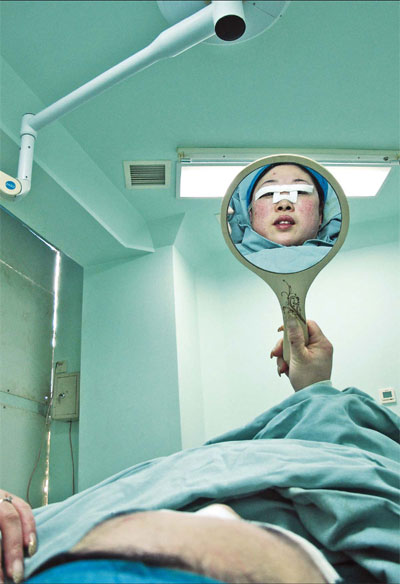 Experts warn that even minor cosmetic treatments in unqualified institutions can pose severe health risks. Jiang Dong / China Daily
As China prospers, more people seek cosmetic surgery to fulfill their dreams of being beautiful, but the results can be devastating if they take the cheap and easy options. Liu Zhihua reports.
When Yang Xiaoming, a young man working for a Beijing-based media company, had a non-surgical cosmetic treatment at a beauty salon near his home in late August 2011, he had no idea how much trouble it would cause.
Yang had a superciliary arch injection to develop more masculine, protruding eyebrows.
But days later, his eyebrows were swollen and ached, and he had a mild fever.
Yang went to the Plastic Surgery Hospital of Chinese Academy of Medical Science in early October 2011 and had surgery to remove the injected fillers.
The surgery cost him 6,000 yuan ($953) and, even worse, he was told the fillers were not hyaluronic acid - as the beauty salon promised - but bone meal, which has been banned as a filler due to safety concerns.
"The doctor told me that my eyebrows were infected. If the fillings had not been removed in time, my eyes could have been threatened," Yang says. "I was horrified."
Yang is one of an increasing number of Chinese who go to beauty salons for medical cosmetic treatment, without being fully aware of the health risks.
"Beauty salons are not hospitals and beauticians are not medical doctors," says Bu Ren, Yang's surgeon and a facial reconstruction specialist at the Plastic Surgery Hospital of Chinese Academy of Medical Science. "The reshaping of one's body involves medical cosmetic treatment. Beauty salons are non-medical institutions that cannot legally conduct these treatments, and they don't have the ability, either."
According to The Measures for the Administration of Medical Services in Cosmetology issued by the Ministry of Health in 2002, facilities must register at health administration bureaus and get approval from the authorities to provide certain medical cosmetic treatments.
Medical cosmetology doctors and nurses are also required to get professional certificates.
However, many people are unaware that medical cosmetic treatments - including surgeries, such as breast augmentation and liposuction, and non-surgical treatments, such as botox injection, laser hair removal and chemical peeling - are defined as invasive or wound-causing treatments, and only qualified facilities and professionals are allowed to carry out the procedures.
China ranks third in the world in the number of cosmetic procedures (both surgical and non-surgical) performed in 2010, indicates a report released in December 2011 by the International Society of Aesthetic Plastic Surgery (ISAPS), a nonprofit group representing surgeons in 93 countries.
The ISAPS report estimates there were 1.27 million procedures in the country in 2010, an extraordinary leap from virtually zero cosmetic surgeries in the 1980s.
"There is a popular saying among doctors that in the past 10 years, 200,000 faces have been ruined because of the incompetence of the service providers," says Ding Xiaobang, a surgeon at the Plastic Surgery Hospital of Chinese Academy of Medical Science.
Wang Jianguo, executive vice-president of the Beijing Association of Plastic Surgery and Aesthetic Medicine, says: "If people were aware of this, many tragedies could have been avoided."
As invasive and wound-causing medical procedures, medical cosmetic treatments require sterile environments, professional operators and guaranteed products, which are not likely to be met at beauty salons, Wang says.
Many of the products used in the procedures - such as injection fillers - are categorized as medical devices, which cost a lot and also require certificates to purchase and use. Many beauty salons may replace the products with substandard alternatives, Wang explains.
Additionally, qualified professionals are not likely to risk their careers, working illegally for beauty salons. Finally, the standards for a sterile environment are entirely reliant on the owner and employees of beauty salons.
"Infections, disfigurements and health risks are the main concerns of having medical cosmetic treatments at beauty salons," Bu says.
She says about 10 percent of her patients are like Yang and have experienced complications arising from having procedures at beauty salons.
A 25-year-old woman from Kaiyuan city, Liaoning province, who did not wish to be named, had a nose job at a beauty salon, but was later rushed to hospital when her nose started oozing pus and she had a low fever.
An examination showed the filler was not hyaluronic acid, as she was told, but another filler that penetrated her tissues and blood capillaries, causing the infection.
The time-consuming removal of the fillers was painful, both physically and psychologically, and she will likely have scars on her nose, Bu says.
"Many people are tempted by the low prices at some beauty salons, but as the old saying goes, 'covet a little and lose a lot'," Bu says.
Yang paid 4,000 yuan ($635) for his superciliary arch injection, a price he later learned was far too low to cover the cost of hyaluronic acid.
The beauty salon refused to pay for Yang's removal operation or compensate in any other way.
"It is always hard to get compensation from beauty salons in such cases, because technically the evidence is hard to produce," says Tong Yunhong, a lawyer with Beijing Huawei Law Firm.
"Even if responsibility is clear, there is a possibility the beauty salon will have disappeared off the face of the Earth."
If qualified hospitals make a mistake, the damage will likely be repaired, because compared with beauty salons they are well organized and inspected, and are insured.
"The pursuit of beauty has risen in China as people's living standards improve," says Sun Longchun, former deputy health minister and president of National Association of Health Industry and Enterprise Management.
"But people should be careful to choose the right institutions to fulfill their dreams of beauty."