It's tough to cast a Net of truth over the Web of deceit
Updated: 2012-01-21 10:34
(China Daily)
| | | | | | | | | | | |
| --- | --- | --- | --- | --- | --- | --- | --- | --- | --- | --- |
|   | | Comments() | | Print | | Mail | | Large Medium  Small | 分享按钮 | 0 |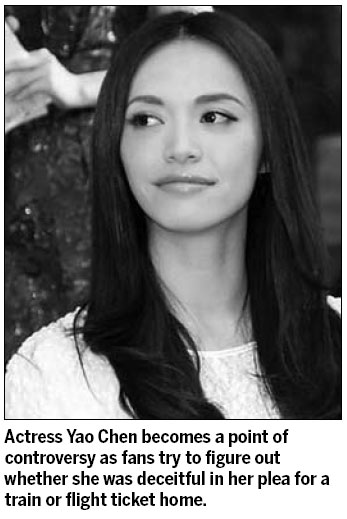 Actress and "Queen Bee of Tweeting" Yao Chen has been begging for a ticket home.
Her plea came as hundreds of millions of Chinese scrambled for a train or flight ticket home for their family reunions during Chinese New Year.
The thing is, she did have a ticket the whole time, and when netizens found out they were, predictably, upset at someone who appeared to be siding with the masses and their Chinese New Year traveling predicaments but was actually one of the lucky ones.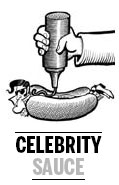 It was on Tuesday that Yao claimed she didn't have a flight ticket home and asked for assistance in a tweet: "Almighty micro blog, do me a favor! I can't book a ticket home. I'll beg you on my knees for a ticket from Beijing to (Fujian province's) Wuyishan on Jan 21," she wrote, adding a cartoon picture of a tearful girl.
In response, her fans gave her helpful advice and even invited her to their own New Year gatherings.
However, on Wednesday, an airline company official's micro blog account seemed to suggest that she already had a seat on a plane back home.
The furious actress reacted by firing off two tweets complaining that the airline official had caused a mountain of misunderstanding, explaining she had only booked a ticket for the second half of her journey.
So, it all turned out well for Yao in the end, as her fans then turned on the airline company for releasing the private details of their beloved celebrity.
The company released an apology, and Yao will celebrate the Year of the Dragon with her loved ones after all.
It's hard to tell what's real and what's not on occasion. Fans of Show Luo were duped when a picture of the Taiwan singer taking a picture of himself, from behind, literally, went viral.
Luo's back is exposed, while female hands appear to hold him in an embrace, and his trousers are unzipped at the back, providing a view of a shapely derriere.
Fans left comments like, "I'm going to have a nosebleed", and, "My goodness, this is so extreme", while others opined, "This is going to give me nightmares!"
Responding to the furor, Luo's manager confirmed the picture was Photoshopped but added: "Thank you for your love of Luo's figure. He'll work extra hard to ensure that his figure is up to everyone's expectations."
In reality, Luo looked a little worse for wear at a recent awards ceremony - a fact tacitly admitted by the singer when he said that he had been watching his weight and dieting.
Finally, on yet another festive happy note, pop blogger Han Han has cleared his name after being accused of having ghostwriters pen his works.
Tech blogger Mai Tian, who made the accusation, was forced to eat his words after the writer and racecar driver offered a cash reward of 20 million yuan ($3.2 million) to anyone who could find evidence of his malfeasance.
His good friend, actress Fan Bingbing, came out on Han's side and said she would also give away 20 million yuan if proof could be found.
No proof was forthcoming, and Mai did the decent thing, belatedly, by admitting he was wrong and apologizing.