Dressed to kill
Updated: 2011-08-17 18:25
(China Daily/Agencies)
| | | | | | | | | | | |
| --- | --- | --- | --- | --- | --- | --- | --- | --- | --- | --- |
|   | | Comments() | | Print | | Mail | | Large Medium  Small | 分享按钮 | 0 |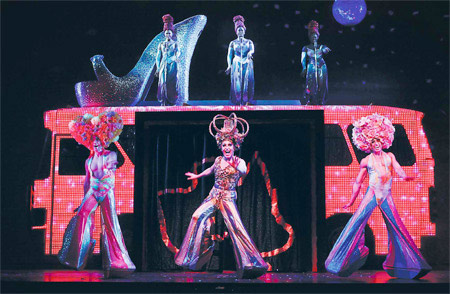 Priscilla Queen of the Desert won Best Costume Design of a Musical in June. Sara Krulwich / The New York Times
Costume designers Lizzy Gardiner and Tim Chappel won the Tony award for Priscilla Queen of the Desert and say they are in love with their craft.
The Broadway musical Priscilla Queen of the Desert - which tells of three drag queens on a cross-country road trip through the Australian Outback - features dresses with hand puppets tucked in the folds, a parade of giant tinsel-topped paintbrushes, screwball geisha girls and a Donna Reed fit-and-flare frock or two. The costumery is so gaudy it's good, and that fabulous kitsch factor hasn't gone unnoticed.
Costume designers Lizzy Gardiner and Tim Chappel won the Tony award this summer for Best Costume Design of a Musical, going up against Anything Goes, The Book of Mormon and How to Succeed in Business Without Really Trying. Not like there was much competition with, say, Marie Antoinette gowns that turn into the iconic Sydney Opera House silhouette.
Inside the cavernous bowels of the Palace Theater in New York, shortly before yet another evening performance, the costume designer was still dishing on her Tony experience. The first thought that came to mind when her name was called: "I hope I don't fall flat on my face. My Chanel booties are killing my feet."
It's an anecdote that speaks volumes about the costumer, who, before this did mostly film work, including the wardrobes for Mission: Impossible II, Bound and the upcoming A Few Best Men.
Gardiner is brassy, direct and a serious fashion hound. "That's so superficial, isn't it? I'm a fashion lover," she adds, deliberately drawing out that last word for emphasis. "Absolutely love it."
Gardiner, who's also a stylist and recently moved to Los Angeles from her native Australia, offers plenty of other sartorial examples.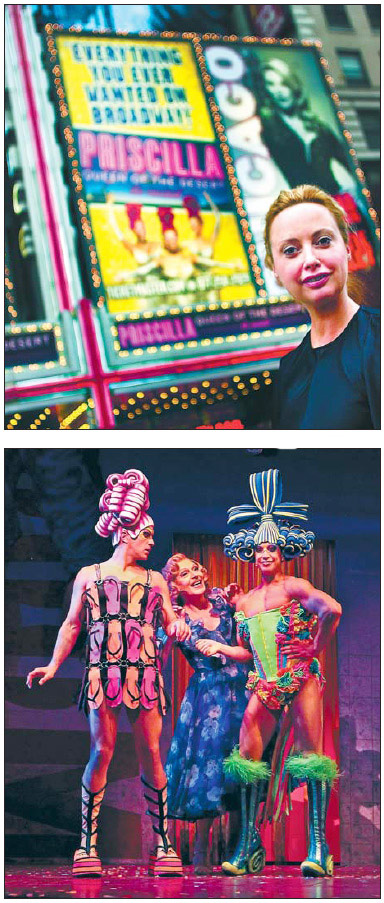 Top: Lizzy Gardiner. Provided to China Daily Above: A scene from Priscilla Queen of the Desert. Sara Krulwich / The New York Times
Exhibit A: She's quick to rattle off her favorite designers - Alexander McQueen, Valentino, Lanvin, Balenciaga. "And I know I'm not meant to say his name, but John Galliano has been a great source of inspiration," Gardiner adds. "For the moment, I love Givenchy, although I have to be careful because sometimes it's a little too edgy for me."
Right now, she's wearing a black Carven dress and Paul Smith jacket, her blondish hair tied back in a tight bundle - a stark contrast to the occasional actor passing by in Gardiner's handiwork, a flurry of pink plastic and feathers.
Exhibit B: It runs in the family. Her mother, who owned a hotel in their hometown of Dubbo, was a clotheshorse. "She was obsessed," Gardiner recalls. "She had a red Valentino smoking suit, to give you an idea. I just remember rolling around in her closet going, 'Oh, my God."'
Exhibit C: Following in the footsteps of Cher and Celine Dion, Gardiner had an infamous fashion moment of her own, mocked by none other than David Letterman. In 1995, when she and Chappel won the Oscar for Best Costume Design for the film The Adventures of Priscilla, Queen of the Desert, Gardiner walked to the podium in a spaghetti-strap gown made entirely from American Express Gold cards (254 of them). Letterman joked that it expired during the commercial break. As for her rather demure turn at the Tonys this year - she wore a simple black kimono dress by the Australian label Bassike - Gardiner explains, "After you pull a stunt like that, you never try and outdo yourself."
But that's precisely what she and Chappel have done with their current Broadway iteration. The musical premiered in Sydney in 2006 and then played in Melbourne, Toronto, again in Sydney, and Auckland, New Zealand. The London production began in 2009 and is still going strong, and there are national tours planned for Italy and the United States in 2012. The two Aussies have done, and will do, all the wardrobes.
The current leg features 500 costumes, 261 costume changes, 150 pairs of shoes, 200 hats and headdresses, 72 wigs and 295 ostrich feathers.
As for the makeup, about 175 tubes of lipstick, 75 pots of eye shadow and nearly a kilogram of glitter are used every month. Perhaps the most staggering set of figures involves the fake eyelashes: Each performance requires 24 pairs. There are nine different styles and the longest measures a sweeping 9 cm.
"This Broadway show is just a better show," says Gardiner. "If you've made a show three, four times, obviously, it's going to become slicker." The original headdresses, for example, were made from heavy chicken wire. "Those were agony! I felt so bad," she says. "There were neck injuries, you know. Now, they're like the inside of a helmet, extremely lightweight and adjustable."
Gardiner and Chappel met back in the 80s when he worked as her costume assistant on the Australian soap opera E Street. "We were just a couple of crazy, naughty, naughty kids," she recalls, noting they got pink-slipped when, on the day of a big wedding scene, they left the bridal gown hanging over a light in the actress' trailer. The dress caught fire and burned the trailer down.
"We're not good in the morning," Gardiner deadpans of that slip in judgment. "But it was perfect timing because we went to Priscilla."
They were actually recruited by the writer and director Stephan Elliott, a childhood friend of Gardiner's. The costume budget back then: $15,000 for the movie versus more than $1 million for the current Broadway production.
"We just didn't have money," says Gardiner. "Everything was hot-glue gunned together. And since we were shooting in the desert, everything fell apart because the glue melted. Some mornings we'd walk into the wardrobe truck, it'd be well over 100 degrees and there would be a puddle on the floor."
That's nothing compared to the night their truck drivers got drunk and decided to play cricket with the heads of the emu costumes. Or the comedy of errors involved in creating the perfect bust for Terence Stamp's transgender character.
"Drag boobs are hard and fake," notes Gardiner. "It's the transsexual thing that's harder to do. We wanted them to look like soft and real boobs, not stuck-on bosoms."
So they tried bags of lentils - too lumpy. Then water balloons, which worked - until the film's end. "When she went to hug her love interest," says Gardiner, who at this point is laughing so hard she's on the verge of tears, "they popped and water was just going everywhere."
Today, much of the musical's costumery is lifted straight from the now-cult film. The giant lizard costumes, for instance, and the cheerleading outfits, for which the oversize pigtails turn into pompons. Or the dress made from orange and pink flip-flops, an idea that came from "celebrating these hideous things called thongs," notes Gardiner.
"At the time, you wouldn't be caught dead in a pair of flip-flops. We wanted to make a joke out of it." Then there are what she calls the "Gumby costumes" - glitzy disco outfits with flared pants inspired by Donna Summer, although Gardiner swapped the original 70s afro for kooky pouf toppers made from plastic flora, rubber duckies and other odds and ends "that were really cheap and cheerful".
As for those Marie Antoinette-meets-Sydney Opera House gowns in the finale, if you can't connect the dots, no matter. "It's just another crazy moment," she remarks. "It's not a game to sit there and try to work out what every costume means. It's just meant to be entertainment."