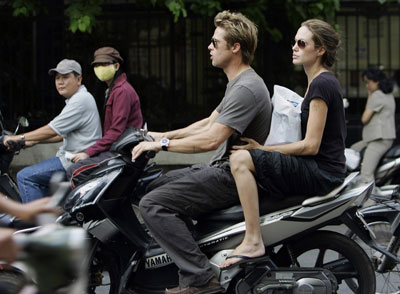 Brad Pitt rides his love Angelina Jolie around Ho Chi Minh City in Vietnam (11/23/06).
The 31-year-old actress, who has an adopted son from Cambodia, also met with officials to discuss a forest conservation project in the country's northwest near Pailin, a former Khmer Rouge stronghold. She has pledged up to $1.3 million over five years for the program.
Jolie's Cambodian son, Maddox, is 5 years old. She and Pitt also have a 1-year-old daughter, Zahara, who was adopted from Ethiopia. Jolie gave birth to the couple's daughter, Shiloh, in Namibia in May.