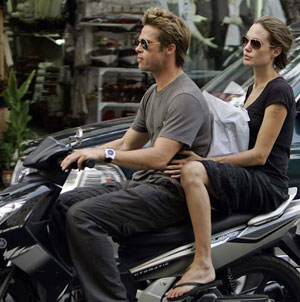 Brad Pitt rides his love Angelina Jolie around Ho Chi Minh City in Vietnam (11/23/06).
Instead of stuffing themselves with turkey and all the fixins', Brad Pitt and Angelina Jolie spent Thanksgiving cruising around Ho Chi Minh City on a motorbike.
Pitt was spotted driving the motorbike through the city center with Jolie perched on the seat behind him Thursday in a country where virtually everyone travels on the two-wheeled machines. The couple later dined at a popular Vietnamese restaurant converted from an old temple.
Pitt and Jolie arrived unannounced in Vietnam after an earlier surprise visit this week to Cambodia where on Wednesday they toured a former Khmer Rouge death camp, which is now a genocide museum.