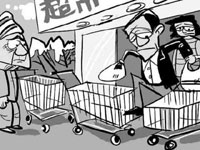 Shopping cart handles are the most bacteria-infested items among some commonly used objects.
Shopping carthandles are the most bacteria-infesteditems among some commonly used objects while doorknobs on public bathrooms are not as bad as might be expected, according to a survey conducted in South Korea.
The Korea Consumer Protection Board tested six items that are commonly handled by the public and ran tests for their bacteria content.
Shopping cart handlesled the waywith 1,100 colony forming units of bacteria per 10 sq cm (1.55 sq inches) followed by a mouse used on computers in Internet cafes, which had an average of 690 colony forming units.
"The reason that shopping cart handles had so much bacteria is because the area is larger than the others and people have more space to place their hands," Kwon Young-il, an official at the consumer body, said by telephone.
Hand straps on buses were next with 380 units, followed by bathroom doorknobs at 340.
Rounding out the list were elevator buttons at 130 colony forming units and hand straps on subways at 86.
The report released this week said washing hands with soap removes almost all of the bacteria.
(Agencies)
韩国一项调查显示:在人们经常使用的物品中,商店购物车扶手最容易滋生细菌,而公厕的门把拉手并不像人们想象得那样可怕。
韩国消费者保护委员会检验了六项公众经常触摸的物品,并测试出这些物品的细菌附着量。
商店购物车扶手上的细菌最多,每10平方厘米(1.55平方英寸)就聚集着1100个菌落;其次是网吧的鼠标,每10平方厘米就有690个菌落。
韩国消费者保护委员会的一位官员权永逸在电话采访中说:"购物车扶手上的细菌多,是因为购物车扶手比其它物体大,人手在上面的接触面积比其它物体大。"
细菌附着量排在第二位的是公交车的拉手,每10平方厘米有380个菌落;其次是公厕的门把手,每10平方厘米附着菌落340个。
电梯按钮上的菌落是130个,地铁拉手上的菌落个数是86,这两样物体在细菌繁殖场排名中居后。
这份报告已于本周公布,报告说用肥皂洗手几乎可以除掉所有细菌。

(中国日报网站编译)