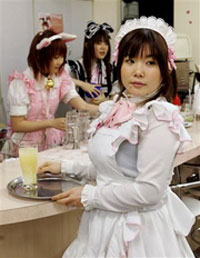 The maids serve not aristocrats but a string of pop-culture-mad customers at a "Maid Cafe" in Tokyo's Akihabara district.
"Welcome, Master," says the maid as she bows deeply, hands clasped in front of astarchedpinaforeworn over a pink dress.
This maid serves not aristocrats but a string of pop-culture-mad customers at a "Maid Cafe" in Tokyo'sAkihabaradistrict, long known as aMeccafor electronicsbuffsbut now also the center of the capital's "nerdculture."
"When they address you as 'Master', the feeling you get is like a high," says Koji Abei, a 20-year-old student having coffee with a friend at the Royal Milk Cafe.
"I've never felt that way before."
Maid cafes dot Akihabara, which has become a second home for Tokyo's "otaku" -- roughly translated as "geeks." They're known for their devotion to comics and computer games and can easily be identified by their standard outfit of track suit, knapsack and spectacles.
In the cafes, girls dressed infrilly frocksinspired by comic-book heroines waithand and footon customers, mostly male, who might have once been obsessed with naughty schoolgirls and nurses.
At one cafe, maids get down on their knees to stir the cream and sugar into the customer's coffee.
At Royal Milk, diners can follow up a meal with a range of grooming services, including ear cleanings.
Maids at some of the more attentive shops even offer to spoon-feed customers at their table.
Maid cafes have mushroomed since they first emerged about four years ago, evolving from cafes where waiting staff emulated characters from a popular series of role-playing video games, often dressed in schoolgirl-inspired uniforms.
Akihabara now boasts around 30 maid cafes that cater not just to male geeks but also to couples, tourists and the merely curious.
(Agencies)
"大人,欢迎光临",身着粉红服装的女服务员一边说着一边向来客深鞠躬,同时,把双手合放在古板的围裙上。 
这名女服务员接待的并非贵族,而是一群对流行文化着迷的"女仆咖啡屋"顾客。这些咖啡屋位于东京秋叶原地区,长期以来被认为是电器发烧友的"圣地",现在又是日本首都的"荒诞文化"中心。
"当他们称呼你'大人'时,你会感到自己高高在上,"20岁的小路·阿部井这样说道。他和朋友正在"皇家牛奶咖啡屋"喝咖啡。
"以前,我从没有过这种感觉"。
"女仆咖啡屋"散布于秋叶原一带,成为东京"御宅族(otaku)",的第二家园,otaku大致可以翻译成"偏执狂"。 "御宅族"以迷恋漫画和电子游戏而著称,他们的标准行头是竞赛服、旅行背包和墨镜,所以极易辨认。
这些咖啡屋受漫画人物的启发,让女孩子们穿上蕾丝边的裙装工作服,并要求她们全心为顾客提供服务。来咖啡屋的大多是男性,他们可能曾经迷恋过调皮的女生或护士。
有家咖啡屋提供跪式服务,女服务员双膝跪下把牛奶和方糖搅拌加入顾客的咖啡里。
在"皇家牛奶咖啡屋",顾客可以用餐,并享受仪容服务,如清除耳垢。
还有一些咖啡屋的服务更周到,服务员甚至喂顾客进餐。
"女仆咖啡屋"四年前现身日本,之后如春笋般迅速崛起。出现之初,服务员仿效电子游戏上人们喜欢的一系列人物形象,其穿戴很像女孩子的校服。
秋叶原地区现在大约有30个"女仆咖啡"屋,他们不仅为这群男性"御宅族"提供服务,还招待情侣、游客和出于好奇而来的顾客。

(中国日报网站编译)