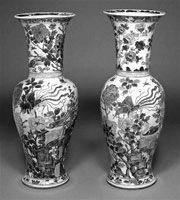 Two high quality Qing ceramic vases, dating from the late 17th or early 18th century, are seen in an undated file photo.
A man who tripped, fell down a staircase and smashed into three rare Chinese vases in a museum two weeks ago said on Monday "it was just a regrettable accident."
"I snagged my shoelace, missed the step and 'crash bang wallop,' there was a million pieces of high quality Qing ceramics lying around beneath me," Nick Flynn said.
"There is no way my pocket will stretch toreimbursethem for the damage that I have done".
A regular visitor to the Fitzwilliam Museum in Cambridge, Flynn, 42, expressed surprise the three vases had not been secured in some way.
"They were just left lying on the window sill."
The vases, dating from the late 17th or early 18th century, were donated to the museum in 1948 and were one of its most recognisable exhibits.
Shocked but determined museum staff have vowed to glue the pieces back together again and take steps to ensure a similar accident doesn't happen again.
"I have had a letter from a Duncan Robinson," Flynn said. "He is the director of the Fitzwilliam Museum, and he has written to me asking me not to visit the museum again in the near future."

(Agencies)
两周前,一名男子在博物馆参观时从楼梯上跌倒,将三个珍贵的中国花瓶撞个粉碎。本周一,这名男子说,"这只是一场令人遗憾的事故。" 
这位名叫尼克·弗林的男子说,"我踩到了自己的鞋带,没站稳,然后'摔下楼梯,轰的一声撞上了花瓶',我周围和身体下面满是清代高档陶器的碎片。"
"我可拿不出那么多钱来赔偿损失。"
42岁的弗林是剑桥菲兹威廉姆博物馆的常客,他很惊讶为什么这三个花瓶没有任何安全保障措施。
"它们就被放在博物馆的窗台上。"
这三个瓷瓶是17世纪晚期或18世纪早期的作品,1948年被捐赠至菲兹威廉姆博物馆,是博物馆中最为知名的展品之一。
博物馆的工作人员十分震惊,决心将碎片重新粘好,再拼成花瓶,并将采取措施以保证不会再有此类事件发生。
弗林说,"我收到邓肯·罗宾逊先生写给我的一封信。他是菲兹威廉姆博物馆的馆长,他在信中要求我近期内不要再光临博物馆。"

(中国日报网站编译)