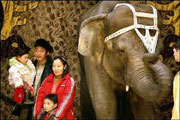 Mongolian family have their picture taken with an elephant at the Moscow in Ulan Bator.
The Moscow Circus has resorted to vodka -- plenty of it -- to keep two Indian elephants warm while they perform in chilly Mongolia.
As the circus prepared for a week-long program in Mongolia's capital Ulan Bator, they faced an awkward problem -- how to keep the two tropical animals happy in one of the world's coldest environments. They found a very Russian solution.
"When the elephants arrived, we gave them three liters of vodka each to keep warm," a Mongolian organizer said.
The mercury in Mongolia regularly falls to minus 30 degrees Celsius (minus 22 degrees Fahrenheit) or lower during the winter months.
Last time the Moscow Circus was in Ulan Bator was over 25 years ago, when Russia was still the center of the mighty Soviet Union, and Mongolia was its obedient satellite, according to the Ulan Bator Post.
The elephants, transported by truck from Russia, have posed major logistical problems for the organizers, the paper said.
Mongolia's State Circus, which provides the venue for the twice-daily shows, did not have apenbig enough for the elephants, and instead its horse pens had to be altered into make-shift elephant accommodation.
The elephants also have to be fed 50 kilograms of vegetables, 30 kilograms of fruit and 20 kilograms of bread and honey every day, running up a giant food bill footed by Mongol Gazar Savings and Loan. 

(Agencies)
为了给在寒冷的蒙古表演马戏的两只印度大象御寒,莫斯科马戏团想尽招数,最后给它们"灌"下了不少伏特加。
马戏团在为蒙古首都乌兰巴托为期一周的马戏表演做准备时,遇到了一个难题:怎样才能让这两只亚热带的动物在这个世界上最为寒冷的国家仍然保持兴奋状态呢?他们找到了一个"俄式方案"。
蒙古主办方的一名成员说,"大象一到这里,我们就给它们喝了3公升伏特加,让它们暖和暖和。"
蒙古冬季的气温一般都会降至零下30摄氏度(华氏温度零下22度),甚至更低。
据乌兰巴托邮报介绍,莫斯科马戏团上一次来到乌兰巴托是在25年前,当时俄罗斯还是国力强大的苏联的中心,而蒙古则是苏联的"卫星国"。
报上说,这两只大象是从俄罗斯坐卡车来到这里的。它们的"膳宿"问题让主办方大伤脑筋。
马戏团在蒙古国家马戏场表演,每天2场。而蒙古国家马戏场却没有足够大的围栏让这两只大象"入住",最后只有把马厩改造成临时的大象围栏。
这两只大象每天要吃掉50公斤蔬菜、30公斤水果、20公斤面包再加上蜂蜜。蒙古国家存贷部负责为它们买单。


(中国日报网站编译)