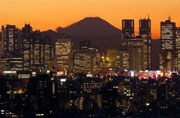 Skyscrapers in Tokyo's Shinjuku district frame Mt. Fuji at dusk in a 2002 file photo.
A lack of winter snow on Japan's famed Mount Fuji has sparked speculation the volcano could erupt for the first time in three centuries, but experts denied any link between snow and seismic activity.
Much of Japan has had record snowfall in the last month, but recent photographs of the usually snowcapped Mount Fuji show its slopes looking bare.
"A lot of snow fell on Mount Fuji, but it was blown off by strong winds," a city official in Fujiyoshida near Mount Fuji said.
Some tabloids have taken the snowless peak as a sign that an eruption was imminent, but scientists said there was no basis for concern.
"There is no link whatsoever between the scarcity of snow on Mount Fuji and volcanic activities there," said a scientist at the volcano section of Japan's Meteorological Agency.
The nearly conical Fuji is classified as adormant volcanosince it last erupted in 1707, but the government was rattled in November 2000 when the number of small earthquakes shaking the peak jumped to more than 200 from a monthly average of around 20.
Japan, which lies at the intersection of severaltectonicplates, is regularly rattled by tremors of varying strength, with volcanic eruptions not infrequent. 

(Agencies)
日本著名的富士山由于冬雪稀少,很多人猜测这座沉睡了三百年之久的火山可能要爆发了。但是有关专家们说雪的多少和地壳运动之间没有任何联系。
上个月,日本很多地方像往年一样,都下了雪,但是从近来的一些照片上可以看到,以往被白雪覆盖的富士山顶如今已经露了出来。
富士山附近吉田市的一名市政官员说,"富士山上曾经下了很多雪,但是后来被大风吹走了。"
一些小报则对此大做文章,说山顶无雪是火山爆发的征兆,但科学家们说这种"担忧"是毫无科学依据的。
日本气象厅火山研究所的一位科学家说,富士山顶的雪变少和火山运动之间是没有什么联系的。
这座类似圆锥形的火山最后一次爆发是在1707年,之后被归为"休眠火山"。但是在2000年11月,日本政府大伤脑筋,因为富士山上小地震不断,从平均每月20次左右飙升到200次之多。
日本位于几个地质板块的交界处,经常受到不同等级的地震的侵袭,偶然也会有火山爆发。

(中国日报网站编译)