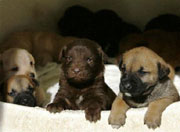 A litter of 10 puppies peer out of their cage, Dec. 13, 2005, at the Humane Society of South Mississippi in Gulfport, Miss..
Puppies are popping up everywhere amid the rubble left by Hurricane Katrina - and animal welfare workers on the northern Gulf Coast fear it is only the start of a big boom in dog births.
Officials say more than 6,000 pets were saved after Katrina came ashore Aug. 29, and many of them were relocated to homes elsewhere in the country. An unknown number drowned in the floodwaters or died later of injuries.
But thousands of animals remain, running loose in neighborhoods where fences were flattened and many owners are gone.
"I've never seen so many puppies in my life," said Manny Maciel, an animal control officer from New Bedford, Mass., who made two trips to helptraploose dogs and cats in New Orleans and Mississippi.
Earlier this month, Maciel pulled 10 puppies and their mother from beneath a porch in a hard-hit section of Biloxi. He found seven puppies and seven dogs during another shift.
Maciel took all the dogs to the Humane Society of South Mississippi, where a shelter now holds about 250 dogs and cats, including nearly 50 puppies. The shelter is the largest one on the Mississippi coast.
Workers have yet to see a spike in cat births, but there's no doubt about what dogs have been doing since the hurricane, said Tara High, executive director of the nonprofit group.
"We're beginning to get litters now," High said. "It's a lot of puppies, and it is not the puppy season."
Maciel and partner Janis Moore drive through mostly abandoned neighborhoods checking reports of stray animals and encouraging pet owners to have their animals spayed or neutered.
Some owners are hesitant to part with their pets for fear they'll never see them again.
"A lot of times it's the only thing they've got," said Moore, who has made three trapping trips .
Animals without owners often wind up at the shelter, where workers are overwhelmed despite the trickle of volunteers who helpwalk dogsand clean up.
About 300 animals had to be euthanized in November at the shelter, High said, but all were too old, sick or aggressive to be adopted. New owners have adopted 378 other dogs and cats.
"It's frustrating," said High, who has worked every day but Thanksgiving since Katrina. "The phone does not stop ringing."

(Agencies)
卡特里娜飓风过后,碎石瓦砾间突然冒出了许多小狗崽,北部海湾的动物保护义工们担心一轮"狗崽潮"就要来临。
据官方人员介绍,去年8月29日卡特里娜飓风登陆后,有6000多只宠物获救,大部分宠物被送往别处安了家。被洪水淹死及受伤后死去的宠物数量至今还不清楚。
但很多宠物还是活了下来,它们无家可归,在破烂不堪、人去楼空的街道上四处游荡。
马萨诸塞州新贝德福德动物管理官员麦尼·马舍尔说,我从来没有见到过这么多小狗崽。麦尼之前去了新奥尔良和密西西比,就是为了捕捉那些无家可归的小狗和小猫。
本月初,马舍尔在比洛克西一个重灾区的门廊下发现了10只狗崽和它们的狗妈妈,并把它们救了回来。在他另一次当班期间,他又发现了7只狗崽和7只狗。
马舍尔把这些狗都送到了密西西比南部动物保护协会,这里的动物收容所现在共收留了250只狗和猫,其中包括近50只狗崽。这是密西西比河沿岸最大的一家动物收容所。
这个非盈利组织的执行理事塔拉·哈伊说,我们这里的工人都见识过"猫崽潮",但现在出现了"狗崽潮",这就不难猜测出卡里娜飓风后,小狗们都做了些什么。
哈伊说,"我们现在已经开始收留狗崽了,虽然现在不是狗繁殖的季节,但狗崽的数量很多。"
马舍尔和他的同伴詹尼斯·摩尔开车去了大多数的灾区,搜救那些无家可归的宠物,同时,他们还说服宠物的主人将宠物的卵巢切除或阉割。
有些宠物的主人不太愿意和宠物们分开,担心以后再也见不到它们了。
摩尔说,"在很多时候,宠物就是他们的唯一。"为了搜捕宠物,摩尔已经出了三次差。
没有主人的宠物常常被收容所收留,尽管有一些志愿者来帮着遛狗和打扫卫生,但是工人们的工作量还是很大。
哈伊说,去年11月,收容所中大约有300只宠物被安乐死,但这些被安乐死的动物要么是老弱病残,要么就是太凶狠。另有378只狗和猫被人领养。
哈伊说,"真是令人沮丧,电话铃响个不停。"卡特里娜飓风过后,哈伊每天都在工作,只在感恩节休息了一天。

(中国日报网站编译)