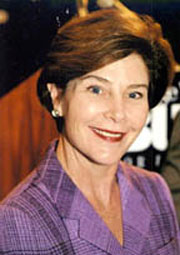 A survey finds that 73 percent of Americans have a favorable opinion of first lady Laura Bush.
Far more Americans think highly of first lady Laura Bush than they think of her husband, a poll released recently said.
Fewer than half of Americans say they have a favorable opinion of President Bush and his top aides, about the same number who said that last summer, the poll found.
But nearly three out of four (73 percent) said they have a favorable opinion of Laura Bush, the CNN/USA Today/Gallup Poll said. Thirteen percent described their opinion of her as unfavorable.
The telephone poll of 1,003 adult American adults was conducted December 16-18 and has a sampling error of plus or minus 3 percentage points.
Asked their opinions of the president, 46 percent said they were favorable, a figure statistically equivalent to the 48 percent who gave that response in a July 25-28 poll.
In the latest survey, Bush earned an unfavorable rating from 53 percent of respondents.
Vice President Dick Cheney earned favorable ratings from 41 percent ofrespondentsand unfavorable ones from 50 percent; Defense Secretary Donald Rumsfeld received favorable ratings from 42 percent of respondents and unfavorable ones from 45 percent.
A CNN/USA Today Gallup Poll,which was also conducted December 16-18 found Bush's approval rating -- which measures how well the public believes a president is doing his job and is different from his favorability rating -- stood at 41 percent, while more than half, or 56 percent, disapprove of how the president is handling his job.

(Agencies)
一项最新的民意调查显示,美国人爱第一夫人甚于爱总统。
调查发现,不到一半的美国人说他们对总统布什和其他高级官员的看法还不错,人数跟去年夏天所做的调查差不多。
然而,将近四分之三(73%)的民众说他们很喜欢劳拉·布什,只有13%的人持反面意见。这次调查是由美国有线新闻网、今日美国以及盖勒普公司共同发起的。
此次电话民调从12月16日进行到18日,共有1003个美国成年人参加。抽样调查误差在3个百分点左右。
在问到对总统的看法时,46%的人认为"不错",这和今年7月25日至28日的民意调查结果大致相当,当时有48%的民众给出了正面的评价。
而在这次电话民意调查中,有53%的人说"不喜欢"布什。
副总统迪克·切尼得到41%的满意票,50%的不满意票;而国防部长唐纳德·拉姆斯菲尔德的满意票和不满意票分别是42%和45%。
另一项由美国有线新闻、今日美国以及盖勒普公司共同策划的总统"支持率"调查也在12月16日至18日进行,调查发现布什的支持率仍然是41%,而有56%的民众对布什总统的工作表示不满。支持率和满意率不同,支持率指的是公众对总统的工作及其执政能力的评价。

(中国日报网站编译)