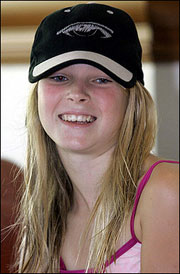 Tilly Smith, 10, of Britain, who is credited with saving 100 lives by alerting people of coming waves during the 2004 tsunami smiles during the first anniversary of the Asian disaster in Phuket, southern Thailand.
Tilly Smith, the 11-year-old British girl, who was called as "Angel of the Beach", saved 100 tourists from a Thai beach hit by last year's tsunami and has been named Child of the Year by readers of a French children's newspaper.
She came ahead of a South African Aids orphan, a six-year-old girl who survived a kidnapping by paedophiles and a young Parisian pop singer to win the Mon Quotidien award.
Tilly had studied tsunamis with her geography teacher, Andrew Kearney, shortly before flying to Thailand for a holiday with her parents and younger sister last year.
As she watched the waves suddenly begin to recede, and the sea was bubbling,she warned her mother, Penny, that the beach was about to be struck by a tsunami. Mrs Smith and her husband, Colin, alerted other holidaymakers and hotel staff and scores of people were cleared from Maikhao beach at Phuket.
Tilly, now 11, and back in Thailand for anniversary commemorations of the disaster, said: "It's really good, just to know about tsunamis or any natural hazard in case you are in one.
"I'm very glad that I was able to say on the beach that a tsunami was coming. And I'm glad that they listened to me."
She had earlier said that the state of the sea, which was "sizzling and bubbling" was "exactly the same as in my geography lesson".
Tilly read a Thai poem entitled Tsunami at a candle-lightvigilto commemorate victims of the disaster.
She is unaware of her remarkable popularity among French children. Her picture appears on the front page of Mon Quotidien, which is read by 10 to 14-year-olds.
"Our readers chose Tilly because they could identify with her," said Fran?ois Dufour, the editor-in-chief. "To be a pop star at 11 seems impossible, and the idea of having Aids or being kidnapped is remote from their lives."
  
(Agencies)
蒂莉·史密斯,这个被称为"沙滩天使"的11岁英国女孩,在去年的那场海啸中,曾让100多名游客从泰国的一个海滩上死里逃生。她也因此被法国一家儿童报纸的读者们评为"2005年度风云儿童"。
她的人气超过了另外两名候选儿童,一名是6岁的南非艾滋病孤儿,这个女孩曾经成功逃脱了一恋童癖者的绑架;另外一名是巴黎少年流行歌手。
去年,蒂莉和父母、妹妹一起去泰国度假,在这之前,她在安德鲁·科尼老师的地理课上学了有关海啸的知识。
当她看到海浪突然后退,海水不停的冒泡时,她马上告诉妈妈佩尼,海啸要来了。佩尼和丈夫科林随即向其他游客和宾馆工作人员发出警告,之后,所有人从普吉岛的麦克奥海滩上撤退。
11岁的蒂莉今年重返泰国,参加海啸一周年的纪念仪式,她说:"当遇到海啸或其他自然灾害时,如果能有关于这些灾害的知识,那就太好了。"
"我很高兴我能在海滩上说出'海啸就要来了',也很高兴大家都相信了我的话。"
蒂莉说当时海水发出咝咝的响声,而且不停的冒泡,和她在地理课上学到的海啸发生前的迹象一模一样。
蒂莉在纪念海啸遇难者的一个烛光守夜仪式上朗诵了一首题为《海啸》的泰国诗歌。
她并不知道自己已经在法国儿童中间声名远播,她的照片还登上了《我的生活》报纸的头版,《我的生活》的读者主要是10岁至14岁的儿童。
《我的生活》主编弗兰克斯·杜福说,"小读者们选择蒂莉,是因为他们能在她的身上找到相同的东西。11岁成为流行歌星,似乎不太可能,而得艾滋病和被绑架离他们的生活又太遥远。"


(中国日报网站编译)