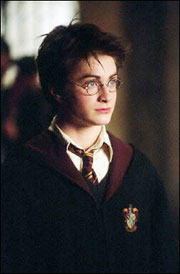 A screen shot from 'Harry Potter and the Prisoner of Azkaban' in May 2004.
An upsurge in interest in reading among children is preventing them from suffering accidents, British researchers say.
The researchers looked at the number of children attending casualty John Radcliffe Hospital in Oxford on at weekends of Saturday, 21 June, 2003 and Saturday, 16 July this year - the launch dates of the two most recent Harry Potter books, The Order of the Phoenix and The Half-Blood Prince.
They found that only 36 and 37 kids respectively needed treatment compared with an average of 67 children on "normal" weekends.
The doctors said while reading did keep children away from dangerous games it could lead to an increase in obesity.
The authors of the study suggested that encouraging more book reading might be a useful way to combat childhood accidents.
"It may be hypothesised that there is a place for a committee of safety conscious, talented writers who could produce high quality books for the purpose of injury prevention," they wrote in the British Medical Journal.
However they acknowledged there could be adownsideto a strategy that seeks to turn active children into bookworms.
Potential problems could include "an unpredictable increase in childhood obesity, rickets and loss of cardiovascular fitness".  
(Agencies)
英国的研究者们称,孩子们读书兴趣的高涨能让他们少出事故。
研究人员们对牛津约翰·拉德克里夫医院的周末看急诊的儿童数量进行了调查。
他们发现在2003年6月21日和今年的7月16日(周六)这两个周六,分别只有36名和37名儿童受伤住院,而在其他的"正常"周末,平均有67个儿童住院治疗。
原来,哈里波特系列的两本新书《哈里波特与凤凰令》和《哈里波特与混血王子》恰恰在那两个周末发表。
医生们说,虽然阅读能让孩子们不去玩那些危险游戏,但是患肥胖症的儿童数量又可能会因此增长。
研究报告的撰写者们建议,鼓励孩子们把精力放在读书上应该是减少儿童发生事故的一个好办法。
这项研究报告发表在《英国医学》杂志上,文章中提到:"设想有一个'安全意识委员会',有才能的作家们应该多写好作品,以吸引孩子们多读书,这样他们的受伤率就会减少了。"
然而,他们说这个"策略"也有其不利的一面,那就是读太多书会把活泼的孩子变成"小书虫"。
此外,还有其他一些潜在问题存在,比如,患"儿童肥胖症、佝偻病和心血管疾病"的儿童数量会增加,但目前还无法预料其增长的幅度。

(中国日报网站编译)