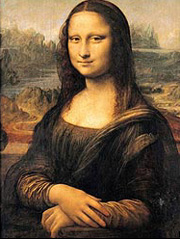 The Mona Lisa became world famous after it was stolen in 1911.
Theenigmaof Leonardo da Vinci's famous Mona Lisa painting has been cracked with the help of emotion-recognition software from scientists recently.
According to findings which will be published in the New Scientist, a British journal, the exact breakdown of Mona Lisa's emotions, were 83 percent happy, 9 percent disgusted, 6 percent fearful, and 2 percent angry.

The sofeware rated features such as the curvature of the lips and crinkles around the eyes.
Dr. Nicu Sebe, a professor at the University of Amsterdam in the Netherlands, used emotion-recognition software to come up with the exact breakdown of Mona Lisa's emotional state.
The program draws on a database of young female faces to derive an average "neutral" expression.
The software uses this average expression as the standard for comparisons. Other applications of emotion-recognition software might be to detect terror suspects on the basis of their emotions as well as their physical characteristics.
Possibly the most famous portrait of all time, Mona Lisa'scrypticexpression has intrigued art lovers for five centuries.
In 2003, a scientist from Harvard University said the way the human eye processes visual information meant the smile was only apparent when the viewer looked at other parts of the painting.
The painting, which is on public display in the Louvre in Paris, was painted between 1503-1506.
It was thought to be named after the sitter, most likely the Florentine wife of Francesco del Giocondo.
The Mona Lisa features in the opening of Dan Brown's hit novel The da Vinci Code when a Louvre curator is found dead near the painting.
(Agencies)
近日,科学家们运用"情绪识别软件"对莱昂纳多·达·芬奇的名画《蒙娜丽莎的微笑》之谜进行了解读。
分析结果表明,蒙娜丽莎的微笑中带有83%的喜悦,9%的厌烦,6%的恐惧和2%的愤怒。这一研究成果将被刊登在英国的《新科学家》杂志上。
"情绪识别软件"通过对肖像面部特征的定量分析来评估人物的情绪,比如,嘴唇的曲度和眼睛周围的皱纹。
荷兰阿姆斯特丹大学的尼克·瑟比博士运用这个新软件对蒙娜丽莎的"情绪"进行了破解。
这项研究根据"年轻女子脸庞"数据库,研究并推断出了年轻女子的"正常"面部神情。
"情绪识别软件"就是用这个"正常"面部表情作为比较标准的。这个软件还能根据人物的情绪和生理特征识别出恐怖嫌疑犯。
《蒙娜丽莎》堪称传世名作,而五个世纪以来,画中蒙娜丽莎的神秘微笑则让众多艺术爱好者们迷惑不解。
2003年,哈佛大学的一位科学家说,蒙娜丽莎的笑容时隐时现,是我们看东西时视线游动的结果,也就是说,观察者的视线在画的其他部位时,才能看到蒙娜丽莎的微笑。
这幅画创作于1503年至1506年间,现在在巴黎的卢浮宫内展出。
这幅画被认为是以画中人的名字命名的,她很可能是佛罗伦萨人弗朗西斯科·德尔·吉奥康德的妻子。
丹·布朗的畅销小说《达·芬奇的密码》中的开头一幕就是卢浮宫的馆长秘死在博物馆中《蒙娜丽莎》的画旁。

(中国日报网站编译)