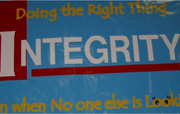 Integrity tops the most frequently looked-up list.
In a year filled with political wrangling, natural disasters and pop culture curiosities, Americans turned to Merriam-Webster to help define them all.
Filibuster. Refugee. Tsunami. Each was among the dictionary publisher's 10 most frequently looked-up words this year among some 7 million users of its online site.
But topping the list is a word that some say gives insight into the country's collective concern about its values: integrity.
The noun, formally defined as a "firm adherence to a code" and "incorruptibility," has always been a popular one on the company's Web site, said Merriam-Webster President John Morse. But this year, the true meaning of integrity seemed to be of extraordinary concern. About 200,000 people sought its definition online.
"I think the American people have isolated a very important issue for our society to be dealing with," Morse said. "The entire list gives us a window that opens up into what people are thinking about in their lives."
Ralph Whitehead, a journalism professor at the University of Massachusetts, said it may reflect the continuing discussion about American values and morality, or it may indicate that integrity itself is becoming so scarce, its definition is unfamiliar.
No. 10 on the list is "inept," a word that Morse said was getting a lot of attention after President Bush delivered a live prime-time news conference that came to an awkward end when some TV networks cut him off to return to their regularly scheduled programs.
Sandwiched between "integrity" and "inept" is a cluster of words obviously plucked from the headlines, such as "tsunami," after one ravaged countries along the Indian Ocean last December.
But the Top 10 list is by no means an indication that Americans were curious orbaffledonly byweighty topics.
After Simon Cowell, the acid-tongued host of the television show "American Idol," called one singer "insipid," Merriam-Webster noticed a dramatic spike in the number of lookups for the word.
The ten words most frequently looked up are:
1 Integrity - Incorruptibility 2 Refugee - One that flees 3 Contempt - Wilful disobedience to a court, judge or legislature 4 Filibuster - The use of delaying tactics to prevent action 5 Insipid - Dull, flat 6 Tsunami - A great sea wave 7 Pandemic - Occurring over a wide area and affecting a large proportion of the population 8 Conclave - A private meeting or secret assembly 9 Levee - An embankment for preventing flooding 10 Inept - Generally incompetent or bungling

(Agencies)
细数2005年的热门话题,有政治辩论,有自然灾害,也有新奇的通俗文化,美国人纷纷求助"韦氏"词典来查询这些热点词汇的含义。
韦氏公司通过统计其网络版词典700万在线用户的点击率,总结出了查找频率最高的词,其中,"阻止议案通过"、"难民"、"海啸"名列前十位。
而integrity(正直)一词荣登榜首,有人说,这个词体现了美国民众所关注的价值观。
韦氏公司的总裁约翰·摩尔斯说,integrity在字典中的解释是"坚守准则;清政廉洁",这个词在网络版辞典中一直很受瞩目。但今年,对integrity真正含义的关注是前所未有的。大约有20万人在线查询过这个词的解释。
摩尔斯说,"我觉得美国人民已经意识到了美国社会应该关注的一个重要问题。这个词汇榜为我们开启了一扇窗,透过它,我们可以了解人们在生活中关注哪些东西。"
马萨诸塞大学的新闻学教授拉尔夫·怀特黑德说,这也许反映了美国人长期以来有关价值观和道德观的争论,也可能意味着当今社会"正直"正在日益减少,它的定义被淡忘了。
排在第十位的词是inept(无能的;不称职的),摩斯说,这个词在布什总统召开的一次黄金时段现场新闻发布会后便引起很多人的关注。那次新闻发布会收场很尴尬,因为有线电视台中途停止转播,换上了电视台平时的定点节目。
位居榜单中间的八个词汇大多源自热点新闻事件,例如,去年12月在印度洋沿岸国家肆虐的海啸就把tsunami一词带进了人们的视线。
但是"十大"词汇排行榜并不能说明美国人只对重大问题感兴趣或是只受这些问题的困扰。
美国 "名嘴"西蒙·考埃尔在主持《美国偶像》真人秀节目中评价一名歌手表现"平淡(insipid)",之后,韦氏网站上这个词的查询率迅速上升。
"十大"词汇排行榜如下:
1 正直
2 难民
3 蔑视
4 阻止议案通过
5 平淡的
6 海啸
7(疾病)广泛流行的
8 秘密会议
9 堤坝
10 无能的

(中国日报网站编译)