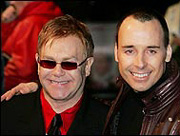 Sir Elton and Mr Furnish posed for a photo.
Eight months after the Prince of Wales and Camilla Parker Bowles married at Windsor's Guildhall, the venue will witness another high profile union - the gay "wedding" between Sir Elton John and David Furnish.
Sir Elton and Mr Furnish yesterday joined hundreds of other same-sex couples across the country by officially registering theircivil partnershipceremony on the first available date.
The formal notice announcing the event, which will be held on Dec 21 after amandatory15-day waiting period, was put on public display at Maidenhead Town Hall in Berkshire.
The couple listed their address as Windsor and Maidenhead alongside their dates of birth and a description of their occupations, musician and film-maker.
The ceremony will be conducted by Clair Williams, the same registrar who officiated at the royal wedding in April.
Mary Rose Gliksten, the leader of Windsor and Maidenhead council, said she was confident the 17th-century Guildhall would provide an elegant venue for the couple.
"Sir Elton and Mr Furnish are making a solemn and formal commitment to each other and our Guildhall offers them both dignity and privacy," she said.
"We wish them both much happiness for their important day."
She added that the authority would work with Thames Valley Police to manage the crowds that are expected for the event.
Sir Elton recently said the couple wanted a "very low-key" ceremony with only their parents as witnesses, but it is likely to be followed by a lavish party at Sir Elton's £12 million home.
The very first ceremonies under the new Civil Partnerships Act can take place in Northern Ireland on Dec 19, followed by Scotland the next day and England and Wales on Dec 21.
More than 1,200 ceremonies have been registered already and Brighton on the south coast is emerging as one of the most popular English venues, but there is also huge demand in other cities.
Meg Munn, the minister for equality, said the Government expected 4,500 couples to become "partnered" in the first year.
"This is an important piece of legislation that gives legal recognition to relationships that until now were invisible in the eyes of the law," Miss Munn said.
"It accords people in same-sex relationships the same sort of rights and responsibilities that are available to married couples.
"We know there are people who have been together maybe 40 years and have been waiting for the chance to do this kind of thing, because of the important differences it makes to their lives."

(Agencies)
八个月前,英国王储查尔斯与卡米拉·帕克·鲍尔斯温莎市政厅喜结连理。如今,这里即将见证另一对高调的结合——埃尔顿爵士和大卫·弗尼什的同性"婚礼"。
昨天,也就是英国《民事伴侣法案》实施的第一天,埃尔顿爵士与弗尼什先生同英国其他上千对同性恋人一起,正式登记了民事伴侣关系仪式。
举行仪式的正式消息在伯克郡梅登海德镇的市政厅公布,婚礼将在法案规定的15天等候期之后即12月21日举行。
埃尔顿爵士与弗尼什登记了住址,出生日期和职业等情况。他们分别住在温莎与梅登海德镇,是音乐家与电影制片人。
今年4月份为查尔斯证婚的克莱尔·威廉姆斯将为他们主持婚礼。
温莎与梅登海德镇议长玛丽·罗斯·格丽克斯顿说,她相信建于17世纪的市政厅将为这对新人提供一流的婚礼场所。
"埃尔顿爵士与弗尼什先生之间已经许下了庄严、正式的承诺,而我们的市政厅将维护他们的尊严和隐私,"她说。
"我祝愿他们在这重要的日子里幸福快乐。"
她还说地方当局将与泰晤士河谷警察局一起维持当天前来参观的人群秩序。
埃尔顿爵士最近表示他们希望举行一个只有双方父母参加的"非常低调"的仪式,但他很可能会在婚礼结束后在他那所价值1200万英镑的豪宅里举办一个隆重的晚会。
根据新近生效的《民事伴侣法案》,首批同性婚礼最早可以于12月19日在北爱尔兰、20日在苏格兰以及21日在英格兰和威尔士举行。目前登记的婚礼已超过1200个,南部沿海的布莱顿市正成为最受欢迎的地点之一,但是在其它城市也存在着大量的此类需求。
英国妇女与平等部长梅格·穆恩说,政府预计将有4500对同性恋人在法案实施的第一年结成正式的"伴侣"关系。
"过去一直被法律视而不见的同性恋关系现在获得了法律上的承认,这是立法上的一个重要进步。"
"它赋予了同性伴侣们与异性婚配夫妇一样的权利和义务。"
"我们了解到有些同性恋人在一起生活了大概40年,他们一直在等待这样一个被法律认可的机会,因为这将使他们的生活得到重要的改观。"
 
(中国日报网站编译)