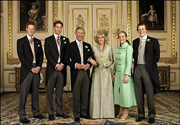 Britain's Prince of Wales(3rdL) and his wife Camilla(3rdR) have selected this family photograph taken at their wedding last April for their 2005 Christmas card.
Britain's Prince Charles and new wife Camilla have chosen one of their wedding photographs as their official Christmas card this year, finally presenting a united front after years as an unofficial couple.
It is the first time that Camilla -- officially the Duchess of Cornwall since her marriage to Charles on April 9 -- has appeared on one of the British royals' official greeting cards.
The card, released Thursday, shows Camilla, wearing the pale blue dress she wore for the church blessing ceremony that followed the civil wedding, on the arm of her new husband, with a bouquet of flowers in hand.
They are accompanied by their four adult children resulting from previous marriages, all smiling: Princes William and Harry, 23 and 21, born from Charles's marriage to the late Princess Diana, and Laura and Tom Parker Bowles, aged 26 and 30.
Despite their respective first marriages, Charles and Camilla carried on a long relationship and effectively lived together as man and wife for several years before their wedding.
Tom Parker Bowles was also married this year, five months after his mother.
The four young people know each other well and reportedly get along, though they are not close.
Prince William and Tom were thewitnessesfor their parents' wedding.
Diana appeared in the royal Christmas cards before the couple's divorce in 1996.

(Agencies)
英国王储查尔斯和他的现任妻子卡米拉选定了一张结婚照,作为今年圣诞节的官方贺卡,这对情侣在经过多年的风雨后,终于名正言顺地并肩出现在世人面前。
卡米拉今年4月与查尔斯完婚正式成为康沃尔公爵夫人,这是她第一次出现在英国王室的官方贺卡上。
这张贺卡于上周四公布,卡米拉身着在婚礼后的教堂赐福仪式上穿的淡青色长裙,挽着查尔斯,手中捧着一束鲜花。
照片上还有他们的四个孩子,脸上都带着笑容。他们是:查尔斯和已故王妃戴安娜的两个儿子,23岁的威廉王子和21岁的哈里王子;卡米拉的一对儿女,26岁的劳拉和30岁的汤姆·帕克·鲍尔斯。
这四个年轻人互相了解,尽管不是很亲密,但据说相处的还算不错。
尽管查尔斯王子和卡米拉之前都结过婚,但是他们共同经历了一段很长的感情历程。实际上,他们在结婚之前已经像夫妻一样一起生活了几年。
卡米拉结婚五个月后,儿子汤姆·帕克也结了婚。
威廉王子和汤姆是查尔斯王储和卡米拉婚礼的见证人。
戴安娜也曾出现在王室的圣诞卡上,那是1996年她和查尔斯离婚之前的事情。
 
(中国日报网站编译)