Philippines landslide death toll at 1,800
(AP)
Updated: 2006-02-19 10:57
Farnacio said the troops were digging only where they saw clear evidence of bodies because of the danger that the soft, unstable mud could shift and claim new victims.
"We can only focus on the surface," he said. "We cannot go too deep."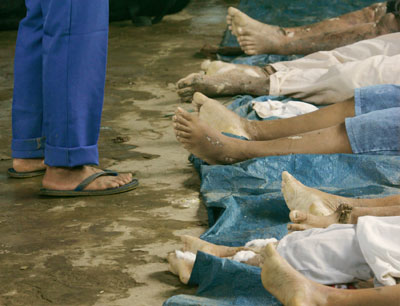 The victims of a mudslide are lined up on the ground in the remote farming village of Guinsaugon, near Saint Bernard town, in southern Leyte province, central Philippines February 18, 2006. Hopes faded on Saturday for some 1,800 people in a central Philippine village engulfed by a torrent of mud and rock when a rain-soaked mountain collapsed on homes and a crowded school. [Reuters]


Low clouds hung over the area, obscuring the mountain that disintegrated Friday morning after two weeks of heavy rains, covering the village's 375 homes and elementary school. Rescue workers trudged slowly through the sludge, stretchers and ambulances waiting for survivors or the bodies of victims.

Joining them was Dionisio Elmosora, a 42-year-old farmer who was looking for his wife and two sons.

"What's important is for me to find them even if they're dead," said Elmosora, his eyes bloodshot and his face grief-stricken. "I've not eaten since this thing happened."

The landslide left Guinsaugon looking like a giant patch of newly plowed land. Only a few jumbles of corrugated steel sheeting indicate the town ever existed.

"Our village is gone, everything was buried in mud," Eugene Pilo, a survivor who lost his family, told local media on Friday. "All the people are gone."

"It sounded like the mountain exploded, and the whole thing crumbled," Dario Libatan, who lost his wife and three children, told DZMM. "I could not see any house standing anymore."

A helicopter pilot, Leo Dimaala, estimated that half the mountain had collapsed Friday morning.

"We did not find injured people," said Ricky Estela, a crewman on a helicopter that flew a politician to the scene. "Most of them are dead and beneath the mud."

Aerial TV footage showed a wide swath of mud alongside stretches of green rice paddies at the foothills of the scarred mountain.

Pat Vendetti, of the Greenpeace environmental action group, said that that although logging is illegal in the Philippines, a combination of poor governance and corruption has hampered enforcement of the law.