Philippines landslide death toll at 1,800
(AP)
Updated: 2006-02-19 10:57
Rescue workers held little hope Saturday of finding more survivors from a devastating landslide that killed an estimated 1,800 people, saying this farming village in the eastern Philippines was swallowed whole by a wall of mud and boulders.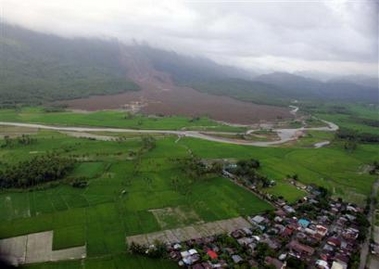 An aerial view shows Saturday, Feb. 18, 2006, the extent of the landslide that buried the whole village of Guinsaugon, St. Bernard town in Southern Leyte province in central Philippines. Rescuers pulled out five more bodies Saturday bringing the death toll to 20 and injuries to 30 others. Officials estimate those who perished in the landslide to be 1,800. [AP]


The search was focusing on an elementary school amid unconfirmed reports that relatives of some of the 250 children and teachers had received cell phone text messages from survivors.

On Saturday, 11 other villages in the area were evacuated out of fear of further landslides. Guinsaugon, on the southern part of Leyte island, has been swamped with 27 inches of rain over the last two weeks.

The U.S. military dispatched two warships and 1,000 Marines to the area.

Many blamed persistent rains and illegal logging for Friday's disaster.

The logging "stopped around 10 years ago," Roger Mercado, a member of Congress who represents the area, told Manila radio station DZBB. "But this is the effect of the logging in the past."

Soldiers were being shuttled to the disaster zone in the shovels of bulldozers that carried them across a shallow stream. With the mud estimated at 30 feet deep at some points, they were given sketches of the village so they could figure out approximately where the houses once stood.

Farnacio estimated the death toll at about 1,800 ¡ª nearly every man, woman and child who lived in Guinsaugon, about 400 miles east of the capital, Manila.

Some "1,800 are feared dead," a grim Farnacio said as search efforts resumed Saturday in a drenching rain and high winds.

Only 57 survivors have been found ¡ª none so far Saturday ¡ª out of a population of 1,857. At least 24 bodies have been pulled from the mud, and a child who was rescued died overnight from head injuries.