Chinese cyclist ready for solo global travel, for 2008 Games
By Fang Xuan (www.chinadaily.com.cn)
Updated: 2006-02-14 15:04
Just a few days after his 46th birthday, Yang Guangwen is busy making final preparations for his solo around-the-world cycling trip - something he want to do to help the 2008 Beijing Olympic Games.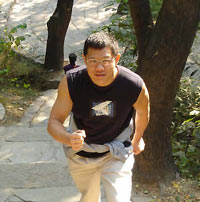 Now, he is almost ready: Financially, he had sold off some of his business to amass the funds, while physically, he is keeping fit by cycling 30 kilometers and swimming 2,000 meters each day.
With all the preparations having gone smoothly so far, he's now praying for a sunny March weekend to launch the odyssey with a comfort start.
Yang, a silent and determined cycling-lover, came up with the idea to thread together all the Olympics Games host cities with his cycle two years ago. Then, he quit his business, which has provided him with enough to cover the budget in the event of no sponsorship.
Yang is doing this because he believes the time has come for an individual Chinese to do something to promote the image of the Games in his own country.
"This is a civilian act to promote the Olympic spirit around the world before the 2008 Games in Beijing," Yang said. "Compared to the high-profile official promotion of the Beijing Games, civilian promotion seems to be quite insufficient."
"As a sports lover, I am pleased to promote the Games with my cycle," said Yang, believing his solo six-month trip would bring to the world the goodwill of Chinese people and take back home the many good wishes.
"I'll travel and speak to people around globe, telling them how Chinese are in favor of the notion of Olympism - friendship, solidarity, and peace," a resolute Yang said. "I'll record 2,008 wishes for the Beijing Games from 2,008 people during my trip and send them to the Games' headquarter in Lausanne (Switzerland)."
Starting from Beijing, Yang will first go to China's Far East neighbors, South Korea's Seoul and Japan's Tokyo. From there he will fly to Australia to cross the remote outback, ending the journey at Melbourne.